Administration
Amy McComb
Office Manager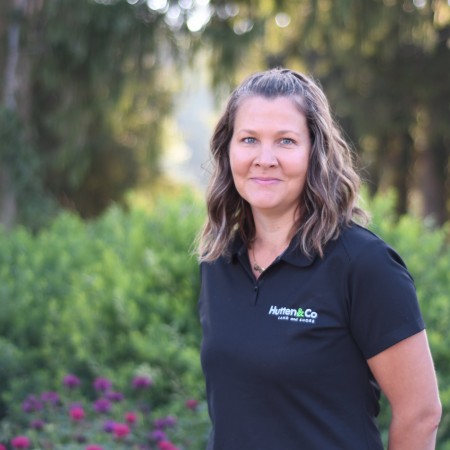 Amy joined Hutten & Co. in 2017 and is responsible for running the show from the front of the house — overseeing administrative functions in the office and handling many Finance & HR tasks.

With over 15 years in automotive and manufacturing environments, the switch to a landscape design-build firm was (quite literally) a breath of fresh air! The beautiful landscapes drew her in, but if you ask her now, it's the people and the amazing culture that keep her here.

When she's through with work, Amy loves spending time with her family on their 100-acre "funny farm." She also has an affinity for craft beer, charcuterie and dachshunds — and believes that any song is worth singing along to …which makes us pretty happy she listens to podcasts at her desk!
Robyn Heeres
Admin / HR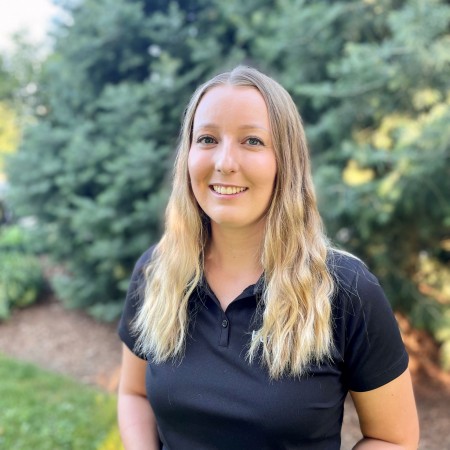 Robyn grew up in Listowel and has been around horticulture from an early age with her family owning the local flower shop. She went to Conestoga College for Fitness and Health Promotion and has since worked in the Fitness Industry for over 7 years and in Retail for 3 years.
She was introduced to Hutten & Co because of their strong reputation in the community, through word of mouth. After checking out the company website and meeting Mark & Amy she was instantly attracted to the company's strong culture and mission. Robyn is passionate about working with people, whether serving customers or helping employees with growth and development. She brings a mix of skills with experience in customer service, sales and management.
Outside of work you can find Robyn relaxing on the water at her family cottage in Southampton or out in her neighbourhood walking her cats (yes, you read that right!).
Sales & Operations
Bryan Hertz
Sales & Client Care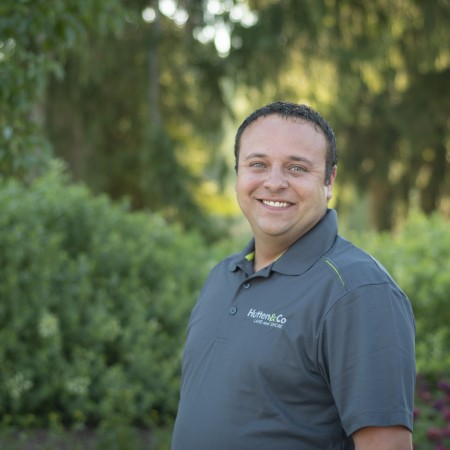 Bryan joined the Hutten & Co. team in 2013. In that time, he's worn many different hats over the years and he says his career here has been extremely exciting, rewarding and a lot of fun!
With over 20 years in the industry, Bryan brings a lot to the table. Most recently, he achieved his Natural Shoreline Professional certification and helps our clients restore their shores and add docks with ease. Today, his role revolves around sales and client care for our dock sales, service, and commercial snow departments.
Bryan is passionate about the outdoors and our local lakes, bays and shorelines. That's why he's often found in a boat during the summers, spending time with his family of four exploring, fishing and enjoying all that the Georgian Triangle has to offer! He's also a huge sports fan and a drummer. It's not hard to find something to talk about with this guy!
Kyle Harman
Contract Administration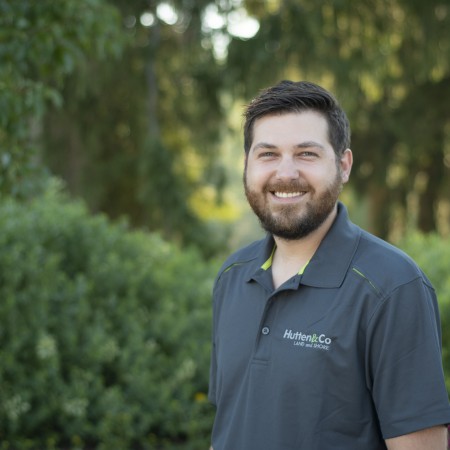 Kyle is our metrics master! He's got spreadsheets and analytics for all aspects of our business and just about everything in life!
He has a wide range of interests extending from financials to landscape management and all the way to home cooking. Kyle's been a cornerstone at Hutten & Co. for over five years. He's keen to share his knowledge and lend a hand in whichever way needed, big or small.
He contributes to the fun office vibe with his legendary jalapeno poppers and seasons our conversations with his dry sense of humor!
Chris Lane
Project Manager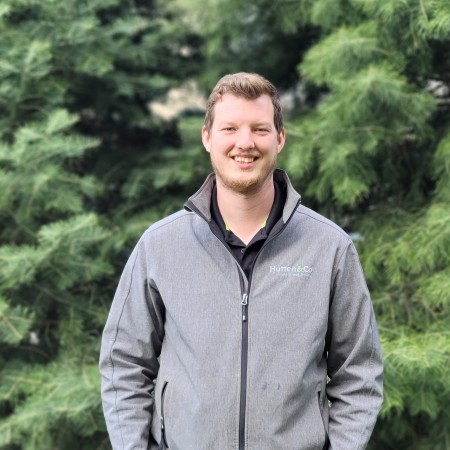 Chris tells us he was attracted to Hutten & Co. for our professionalism, clearly defined processes and great rapport with clientele.
With over a decade of experience in the industry, Chris brings a lot of passion and enthusiasm to our team. He's excited to work alongside the industry's best in creating beautifully natural landscapes and help create a culture that continues to redefine the landscape world.
When he's not working, he's probably exploring our region's awesome natural spots by ATV trails and camping out with his growing family. In his words: "I get to watch beautiful landscapes being sculpted during the week and then I watch them fly by on the weekend in my side-by-side!"
Brent Cleave
Project Manager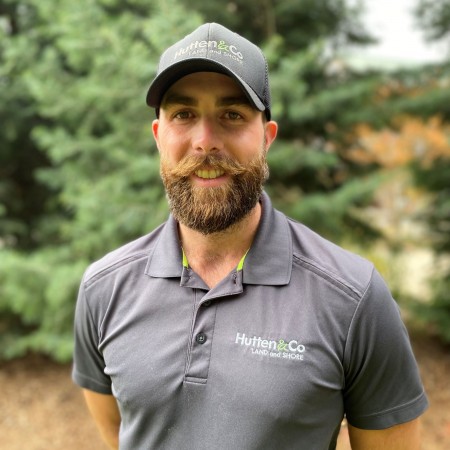 After growing up in rural Southern Ontario (shoutout to Hensall, the "White Bean Capital of Canada"!) and designing landscapes, golf courses & clubhouses instead of working the family farmland, continuing on to the landscape design and build world always seemed like a natural fit for Brent.
After nearly a decade in landscaping, combined with an education in business management and project management, the captivating beauty of the Grey and Bruce Counties were calling his name!
Providing a remarkable experience for clients and bringing their dream project to fruition is what drives Brent's passion. With the belief that we are all hardwired for connection, Brent is always looking forward to bringing people closer to their living spaces, environments, friends and family.
Brent has completed a wide variety of projects throughout his career, but having the opportunities to help build the dream landscape and outdoor living spaces for an NHL team captain as well as his family were both incredible experiences!
Away from the office, you can find Brent on the golf course wherever and whenever possible, strength and conditioning training, visiting new Ontario craft breweries or brewing his own craft beer creations at home!
Tim Cradduck
Account Manager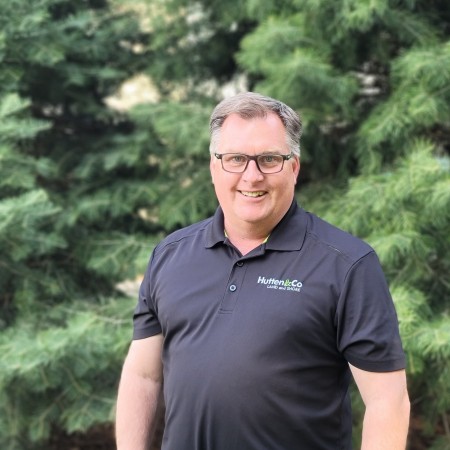 Tim took a very roundabout way of joining the Hutten team, with over 30 years of horticultural experience in the industry.
He brings knowledge and skill into so many different aspects of his job. That excites us, because he's an excellent teacher and coach for our younger and newer team members — and he's great at explaining things to our clients!
One of the moments from his career that sticks with him happened while he was involved with the London Chapter of Landscape Ontario. He helped with the design and construction of a legacy garden at Banting House in London — the birthplace of insulin! When the garden was opened and dedicated, several of the dignitaries in attendance were brought to tears by the impact and significance that Dr. Banting's legacy had — and the fact that his discovery allowed them to live a somewhat normal life, longer than would have ever been possible without insulin.
Tim has lots of hobbies outside of work. In the summer you can find him playing with his Mini Cooper S convertible and getting out to the golf course with his kids. When winter rolls around he enjoys skiing the slopes of the Blue Mountains. Tim and his wife are animal lovers and have been involved with the animal rescue "ARF" for years, fostering over 35 dogs and 10 cats!
Paul Scriver
Service Manager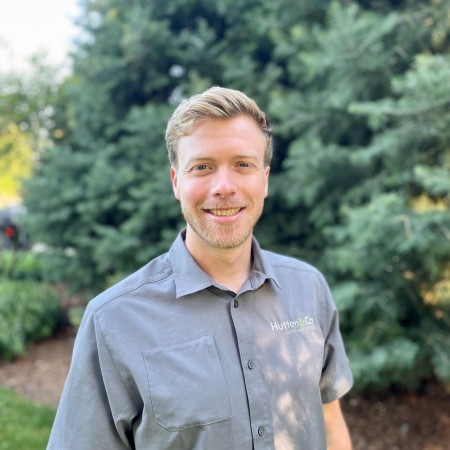 Paul grew up in Ottawa with a family of outdoor enthusiasts and has been looking for excuses to play outside ever since! Paul has spent over 15 years working in the outdoor and travel tourism industries, traveling to remote regions of the globe as a guide and more recently taking on roles in operations for an expedition cruise company. Having spent his time playing with penguins, whales, icebergs and walking around with polar bears, Paul was looking for a way to share his passion for outdoor environments a little closer to his home in Kemble, On. in the spring of 2021 he stumbled upon an opening with Hutten & Co's Docks department. Being no stranger to icy cold waters - having worked for many seasons dressed in a drysuit as a kayak, stand up paddleboard and wildlife guide in Antarctica and Northern Canada - the thought of jumping in Georgian Bay and Lake Huron seemed downright tropical. When the opportunity arose, Paul jumped at the chance to join the "family" in the office as the service manager for the dock and snow departments and is excited to be a part of a growing team at Hutten!
Elise-Suraya Trottier
Landscape Designer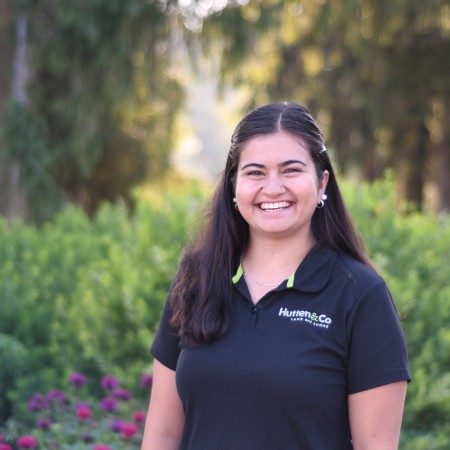 Elise-Suraya Trottier is our talented Fanshawe graduate landscape designer. She has a passion for designing with native plants... and for having cake (preferable for breakfast)!
Her great love for the outdoors made it easy for her to eagerly trade her city shoes for hiking boots. Her favourite part of our region is all the beautiful beaches.
Elise often surprises us with her unexpected straight-faced sense of humour, you should never underestimate her! For a good story, ask her about her "double bear experience" in Algonquin, she's a legend there!
Tobias Mahne
Landscape Designer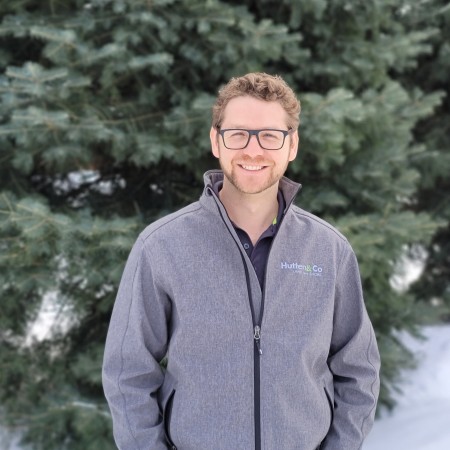 Tobias is a South African born and trained landscape architect that led the landscape design team at a boutique design studio in Pretoria — spending the last five years in Dubai collaborating on some of the Middle East's most prestigious developments with ambitious developers and demanding clients.
Having grown up close to nature he wanted to raise his family in a safe environment with shared values and what better country to do that than Canada! His family is passionate about forests, ferns, bulbs and waterfalls (and all things nature) and look forward to experiencing more of this in Grey-Bruce County. He's also excited to celebrate these amazing natural gifts through the work he does.
Hutten & Co.'s culture and ethos is quite unique and Tobias would tell you that he quickly fell in love with the way things are done here. His witty sense of humour adds to the lively office vibe we love and encourage!
Designing personalized experiences with a unique point of view is a big passion of his — he loves getting into his client's world and to provide beautiful and meaningful solutions and feels blessed to be able to serve Hutten's great clients in this way.
John Hutten
Founder/Support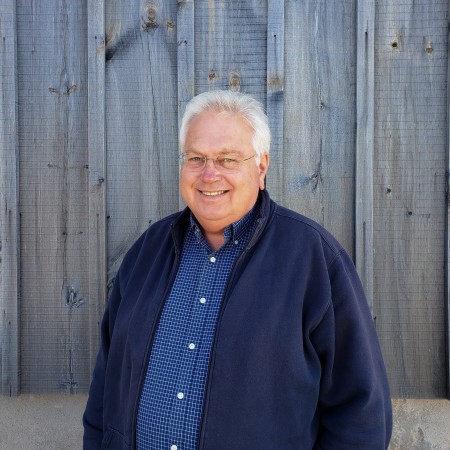 The original Patriarch, John, aka Dad, founded the business in 2000, with a machine, a truck and a whole lot of heart. His early business motto was "Yes, that's our specialty". We learned a lot! Kindness, generosity, and a focus on customer satisfaction built a strong business that continues to grow today. Now he can be found trucking about, filling in the gaps, and saving last minute delivery issues on a regular basis - let us know if you catch him!
Docks Team
Matt Wenger
Dock Service Crew Leader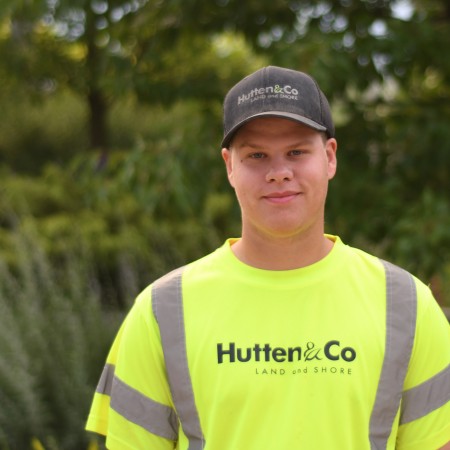 Matthew, the son of a legend. He is just as dedicated as his dad too. After helping us out here and there installing some docks and laying some sod, Matt has joined our team full-time, and we are glad to have him. While he enjoys quiet days at home with his PlayStation, Matt is a go-getter in the field and will always go the extra mile to help his teammates. We are excited to see him grow with us!
Jonathon Genereaux
Dock Service Crew Member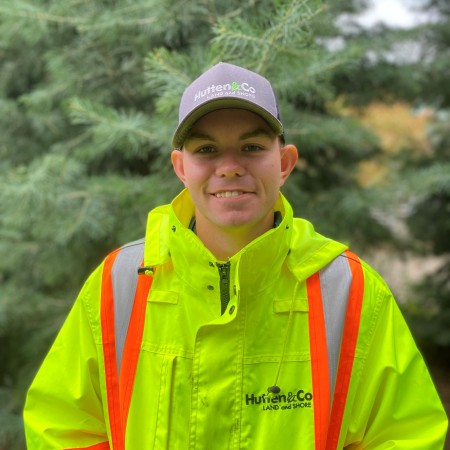 Jonathon is an individual who has always had a great interest in the water. He has participated in swimming lessons, water rescue/lifesaving courses, various watersports including sailing and fishing, and is a PADI certified scuba diver. Jonathon was drawn to Hutten & Co. because of the sterling reputation that the company has in the community, the former and current workers that comprise the Hutten team, and the opportunity to work in the water. Jonathon enjoys the fact that he gets paid to be in an aquatic environment and appreciates that Hutten & Co. works to beautify the environment, but is being conscientious in the way that they operate and the effect that they have on the natural world.
Jonathon first entered the working world as a line cook, and has varied experience in appliance delivery, carpentry, landscape care for friends and neighbors, and working for his parent's business. Jonathon enjoys learning new skills and doing quality work, a package that Hutten & Co. fit perfectly in line with.
Outside of work, Jonathon often enjoys a good book, going outdoors, or is creating something from wood, of pencil and paper. Jonathon enjoys the healthy work-life balance that Hutten & Co. provides, and cannot wait to see where the adventure of this chapter takes him.
Construction Team
Peter Beeksma
Landscape Mentor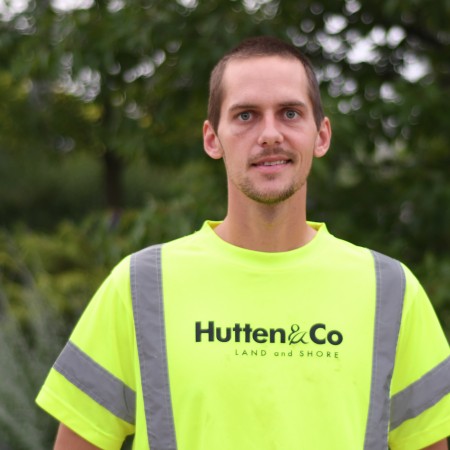 Being the son of a landscaper, you could say Peter was born to landscape! He comes to Hutten having worked in landscaping for thirteen years. During that time, he became a Certified Horticulture Technician and was heavily involved in multiple Dunington Grubb award winning projects. Peter then went on to fulfill his dream of building his own house from the ground up. Since joining the Hutten team, he has enjoyed the culture and working on complex projects that involve lots of variety and problem solving. Peter brings a lot of passion, vision, and creativity to his projects. Alongside Ed and Steve, he works hard to dominate projects and elevate Hutten & Co to new heights! One of his favorite moments was the first project he was involved in. There was very limited and difficult access to the site, but the result took a space that was useless to something absolutely gorgeous. Outside of work, Peter enjoys hanging with friends and his awesome family including his wife and four kids.
Scott Maclean
Landscape Crew Leader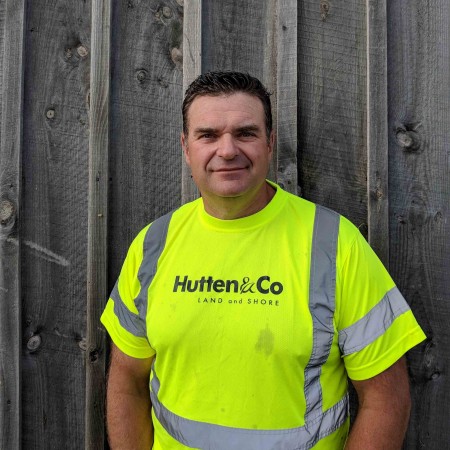 Scott takes in the craziness here with a quiet, methodical scrutiny that doesn't miss a beat. He has an uncanny handle on the entire landscape scene and a meticulous eye for detail. With over 20 year's experience in the field, he's earned it. When he isn't crafting the best landscapes in Ontario, he is likely ripping around with his son on dirtbikes! Braaaaap!
Travis Rawlings
Landscape Crew Leader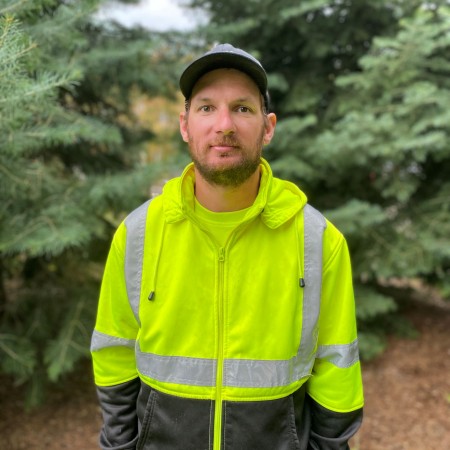 Travis was born in New Zealand and moved to Canada when he was five years old. Since then he has been back and forth between Countries, completing his Diploma in Horticulture at the New Zealand Eastern Institute of Technology.
Travis comes to Hutten with a variety of experience in automotive bodywork, construction, and landscaping. He decided to join the Hutten team because was impressed with the high quality standard of work and amazing team full of good people. He enjoys the technical aspects of the job and being able to do a variety of work from woodworking, to stone, to pools.
Outside of work Travis stays busy completing several projects on his home, from roofing, landscaping and other handiwork. To unwind he enjoys being in the great outdoors hunting and fishing.
Dave Pigott
Landscape Crew Leader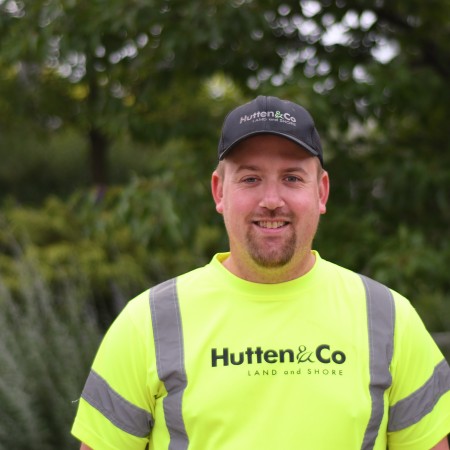 Dave comes to us with lots of landscaping experience. He's got a great attitude and a strong work ethic. When he is not working, look for him parked somewhere along the Saugeen River, where you will probably find him fishing. He is currently working toward completing the requirements to become a Certified Landscape Technician.
Kevin Smith
Landscape Crew Leader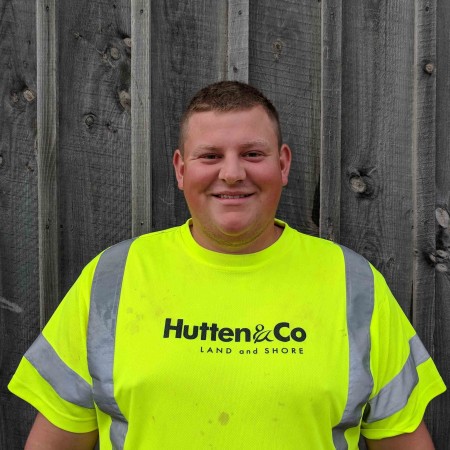 Laurie McConnell
Landscape Crew Leader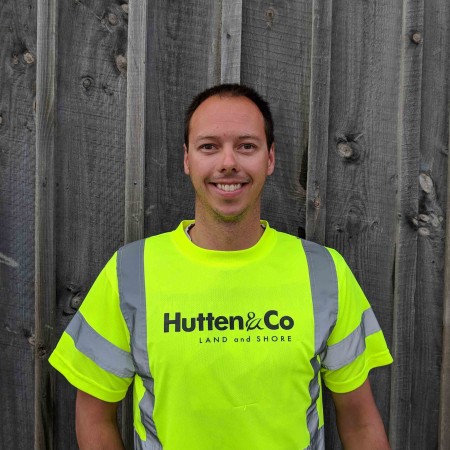 Laurie - the everything guy. Professional snow clearer, seasoned dock service veteran, skilled machine operator and landscape tech, and dedicated family man, Laurie is an excellent addition to the team. Somehow, he is always smiling, even when you'd expect a frown. He's also been known as the home depot guy, where he's taken home several consecutive employee awards in a row. The reason is obvious; he'd cheerfully give you the shirt off his back. No questions.
Edward Brillinger
Landscape Crew Member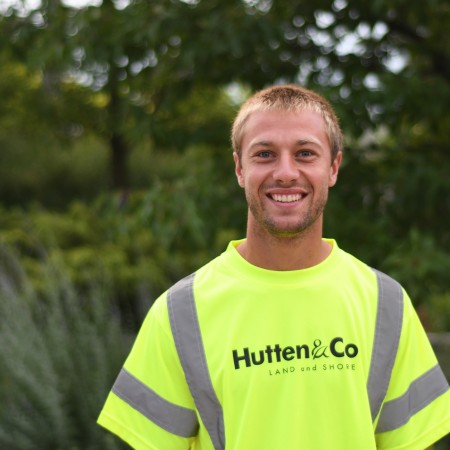 Ed comes to us with experience working as a farmhand, plumber, and in general construction. He loves being a part of the Hutten team as he gets to work outside, drive tractors and work with some pretty sweet people. He also loves the culture and the opportunity for growth. Ed's greatest strengths are his biceps and his big welcoming smile. He is an optimistic team player with "lit" tractor skills. Outside of work, Ed enjoys campfires, sports, BMX, treasure hunting, and watching Disney movies with his wife and three kids.
Nick Varley
Landscape Crew Member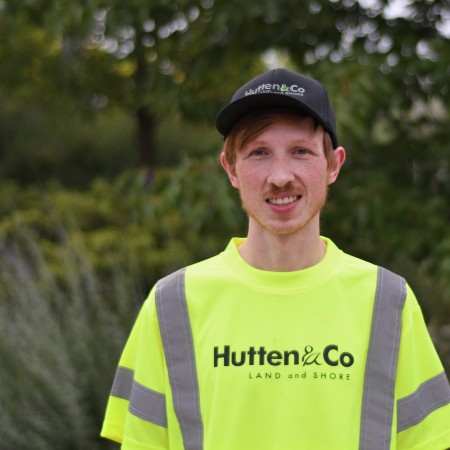 Carter Fraser
Landscape Crew Member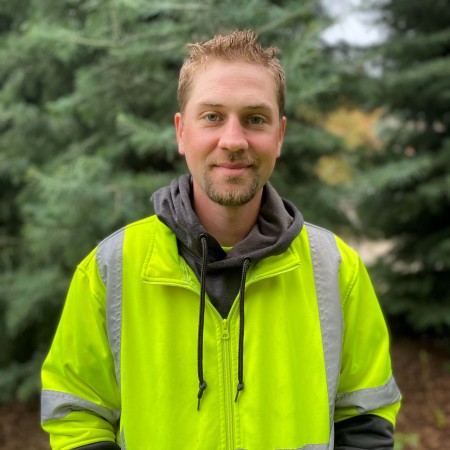 After spending years confined by 4 walls as a kitchen chef, Carter decided it was time for a "Renaissance " of sorts. He was intrigued by the good things he heard about Hutten & Co in the community as a forward thinking company. It wasn't long after that he decided to venture off the beaten path with a new opportunity here, and couldn't be happier on his new path! We're glad he's onboard, and can't wait to taste his famed avocado eggs benny :)
Carter is a man of many strengths. He's an awesome team player, and is one of the most positive and cheerful guys you'll see around, no matter what he's doing! He loves the problem solving involved with design and construction projects, not to mention the rewarding experience of working on beautiful properties with stunning views.
Carter was recently married and welcomed a new baby girl to the world. He also enjoys anything with a motor, cycling and carving out time for home improvements in between.
Julian McConnell
Landscape Crew Member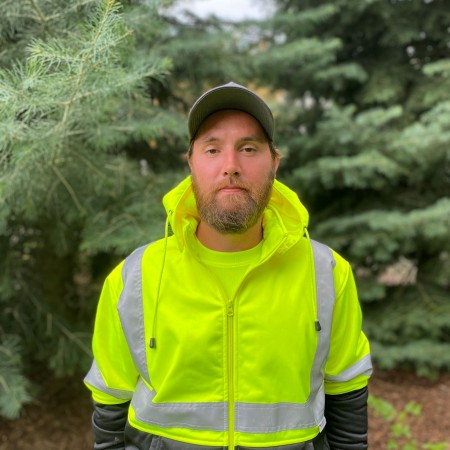 Stephen Spencer
Landscape Truck Driver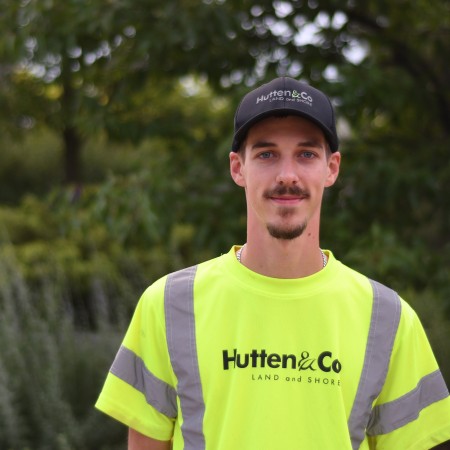 Working at a local Golf Course for ten years, Stephen brings a mix of experience having worked in the kitchen, pro shop and golf course. While he was there he had seen some projects Hutten had done nearby and was impressed with the high quality of work.

In planning to start his own family he decided to go back to school to get his trucking license and pursue the world of construction. He enjoys being involved in jobs from start to finish, seeing the end product come together looking nice and working well.
With his wife and two kids (with one more on the way!) you can find his family outside fishing and hunting. Stephen also enjoys working on his Honda Motorcycle or his old Jeep.
Property Care Team
Marina Warhurst
Property Care Crew Leader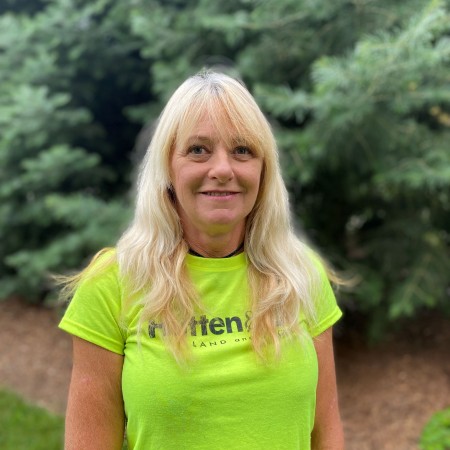 Marina was born in England but has spent most of her life in Canada, between British Columbia and Ontario. After her husband retired, they moved from Whistler back to Ontario, where they now live in a little town outside Hanover.
Marina has over 20 years in the landscape industry and has recently pursued computer studies. She gladly accepted her position at Hutten & Co and has been learning a lot from her coworkers, while bringing her own expertise to the table!
Outside of work she has two amazing children and one grandchild. She also enjoys spending time in her garden where she harvests fruits and vegetables to make dishes for hosting dinner parties. In the winter she enjoys skiing with friends.