Administration
Amy McComb
Administration & Finance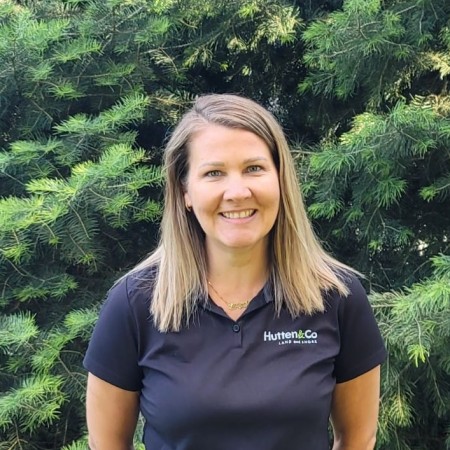 Amy joined Hutten & Co. in 2017 and is responsible for running the show from the front of the house — overseeing administrative functions in the office and handling many finance & HR tasks.

With over 15 years in automotive and manufacturing environments, the switch to a landscape design-build firm was (quite literally) a breath of fresh air! The beautiful landscapes drew her in, but if you ask her now, it's the people and the amazing culture that keep her here.

When she's through with work, Amy loves spending time with her family on their 100-acre "funny farm." She also has an affinity for craft beer, charcuterie and dachshunds — and believes that any song is worth singing along to …which makes us pretty happy she listens to podcasts at her desk!
Julie Kers
Administrator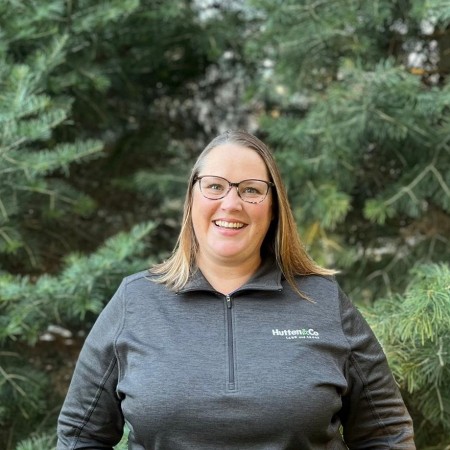 Julie and her family of 5 moved to Owen Sound in 2016. During a brief conversation with a family member who was looking for a new job, she came across the Administrator position at Hutten & Co. After a few years in the legal field and a background in banking, she decided she was ready for a change, so she explored this option further. After meeting with Ken and Robyn, she knew the culture and values shown at Hutten &Co. were a good fit for her. She grew up in Listowel, with a family run business in the agriculture/construction field so this felt like home.
When not at work, Julie can be found at one of her kid's sporting events, on the softball diamond, or just relaxing with a good book by her pool. When she is not kept busy, she tends to redesign an area of her home, so it's dangerous to let her sit idle!
Robyn Heeres
Human Resources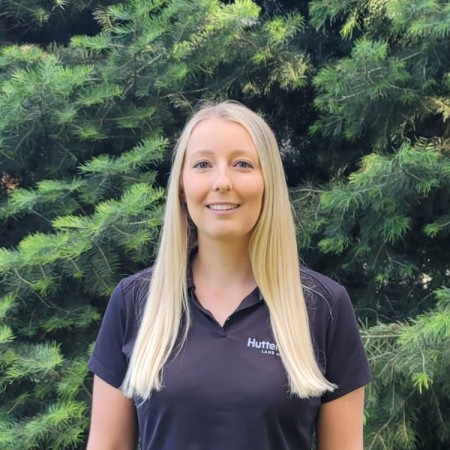 Robyn grew up in Listowel and has been around horticulture from an early age with her family owning the local flower shop. She went to Conestoga College for Fitness and Health Promotion and has since worked in the fitness industry for over 7 years and in retail for 3 years.
She was introduced to Hutten & Co through word of mouth, because of their strong reputation in the community. After checking out the company website and meeting Mark & Amy she was instantly attracted to the company's strong culture and mission. Robyn is passionate about working with people, whether serving customers or helping employees with growth and development. She brings a mix of skills with experience in customer service, sales and management.
Outside of work you can find Robyn relaxing on the water at her family cottage in Southampton or out in her neighbourhood walking her cats (yes, you read that right!).
Sales & Operations
Bryan Hertz
Sales & Client Care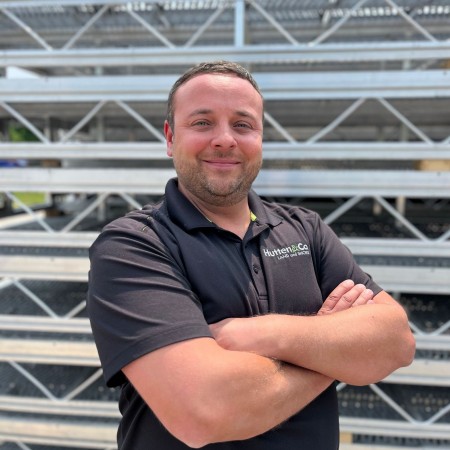 Bryan joined the Hutten & Co. team in 2013. In that time, he's worn many different hats over the years and he says his career here has been extremely exciting, rewarding and a lot of fun!
With over 20 years in the industry, Bryan brings a lot to the table. Most recently, he achieved his Natural Shoreline Professional certification and helps our clients restore their shores and add docks with ease. Today, his role revolves around sales and client care for our dock sales, service, and commercial snow departments.
Bryan is passionate about the outdoors and our local lakes, bays and shorelines. That's why he's often found in a boat during the summers, spending time with his family of four exploring, fishing and enjoying all that the Georgian triangle has to offer! He's also a huge sports fan and a drummer. It's not hard to find something to talk about with this guy!
Chris Lane
Project Manager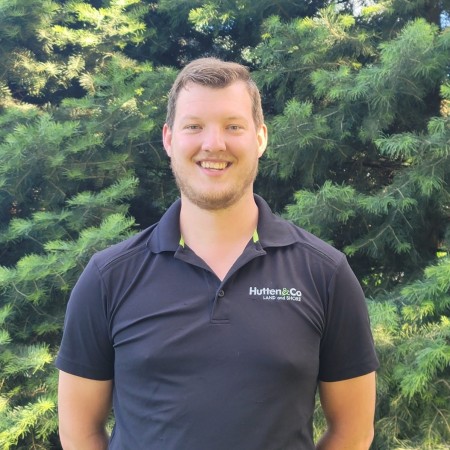 Chris tells us he was attracted to Hutten & Co. for our professionalism, clearly defined processes and great rapport with clientele.
With over a decade of experience in the industry, Chris brings a lot of passion and enthusiasm to our team. He's excited to work alongside the industry's best in creating beautifully natural landscapes and help create a culture that continues to redefine the landscape world.
When he's not working, he's probably exploring our region's awesome natural spots by ATV trails and camping out with his growing family. In his words: "I get to watch beautiful landscapes being sculpted during the week and then I watch them fly by on the weekend in my side-by-side!"
Carter Fraser
Project Estimator/Support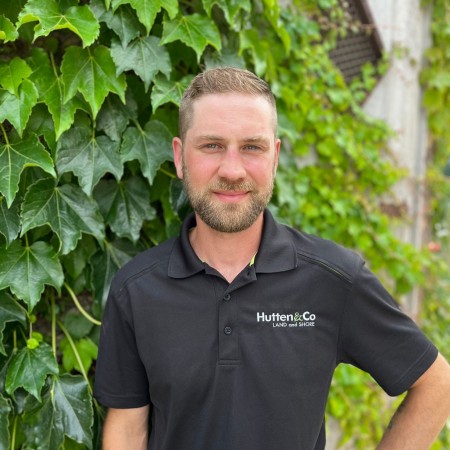 After spending years confined by 4 walls as a kitchen chef, Carter decided it was time for a "Renaissance " of sorts. He was intrigued by the good things he heard about Hutten & Co in the community as a forward thinking company. It wasn't long after that he decided to venture off the beaten path with a new opportunity here, and couldn't be happier on his new path! We're glad he's onboard, and can't wait to taste his famed avocado eggs benny :)
Carter is a man of many strengths. He's an awesome team player, and is one of the most positive and cheerful guys you'll see around, no matter what he's doing! He loves the problem solving involved with design and construction projects, not to mention the rewarding experience of working on beautiful properties with stunning views.
Carter was recently married and welcomed a new baby girl to the world. He also enjoys anything with a motor, cycling and carving out time for home improvements in between.
Elise-Suraya Trottier
Landscape Designer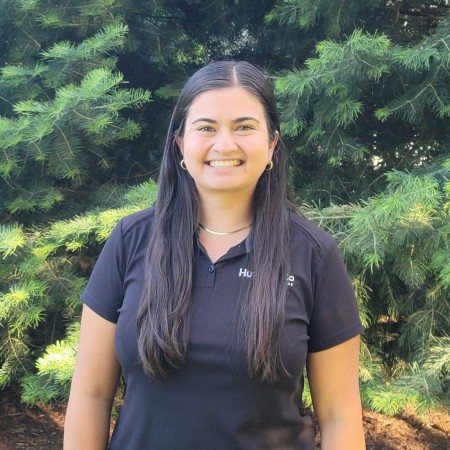 Elise-Suraya Trottier is our talented Fanshawe graduate landscape designer. She has a passion for designing with native plants... and for having cake (preferable for breakfast)!
Her great love for the outdoors made it easy for her to eagerly trade her city shoes for hiking boots. Her favourite part of our region is all the beautiful beaches.
Elise often surprises us with her unexpected straight-faced sense of humour, you should never underestimate her! For a good story, ask her about her "double bear experience" in Algonquin, she's a legend there!
Jackie Fuller
Landscape Designer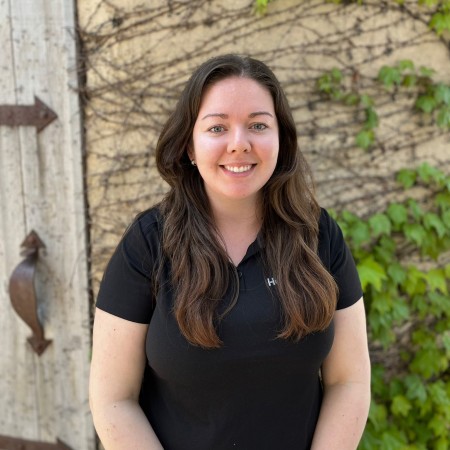 Jackie grew up on a farm outside of small-town Arkona. Raised around nature and beautiful waterfalls, there were plenty of hiking options close by to seek adventure. Growing up gardening with her parents led to her interest in Landscape Design.
Jackie graduated from the Landscape Design program at Fanshawe College and mainly worked on residential design within the Burlington/GTA area and London/Middlesex County. Her previous projects typically consisted of contemporary and modern design styles with a mix of formal and mass planting. Weekend trips up to the Bruce Peninsula, specifically Dyers Bay, led to her interest in the area.
At Hutten & Co. she looks forward to building new client relationships, exploring the area more and learning about shoreline design and restoration. Jackie enjoys traveling, farming, hiking, shopping, crocheting, and painting. She spends a lot of my time outside of work just enjoying time with pets, friends and family.
Maria Nesterova
Landscape Designer/ Plant Specialist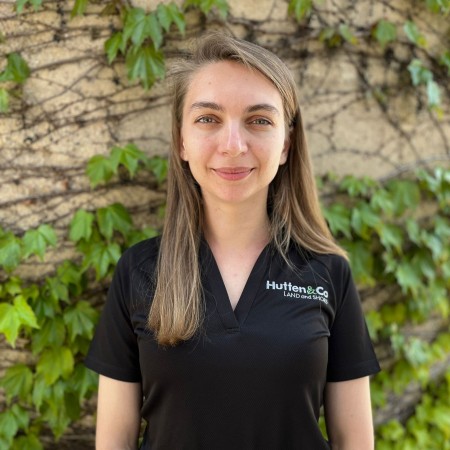 Maria came to Hutten & Co. as a Landscape Architect from Ukraine. She arrived in Canada first in Vancouver, BC, and was looking for a job there, but came across Hutten's company website, saw the values and approach of the company, and realized she wanted to work here. After a few interviews, it was obvious, Maria was the perfect fit!
Her education in landscaping started in childhood - she grew up in a very small village in Ukraine, located in the forest. Her parents worked in forestry, so she was close to nature from an early age, and her career path was determined! Starting working as a gardener at 14, she then enrolled in college for landscape design and later studied at a University in the southern part of Ukraine (Crimea), and graduated with a master's degree in Landscape Architecture. During her University studies, she had professional internships in France. In the last years of University, she started working at a landscape company in Crimea. After graduating, her education did not end there. Maria attended master classes by English, Italian, and American Landscape Architects. Her education still continues to this day, she also visits landscape exhibitions all over Europe and the world, most recently in Dubai, UAE.
Maria is happy to be at Hutten & Co. because she can share her experience and learn a lot of new things here. During her career, she has been able to implement many projects in different climatic zones and also in interior landscaping, creating winter gardens and living walls. Maria has worked in the eastern, central, and southern parts of Ukraine, northwest Russia, and also in France. Her strengths are deep knowledge of dendrology and soil science, as well as a drive to learn new things in order to develop in the profession and create beautiful gardens. In addition to work, she loves sports in all it's manifestations, hiking, and traveling.
Joe Maxwell
Production Manager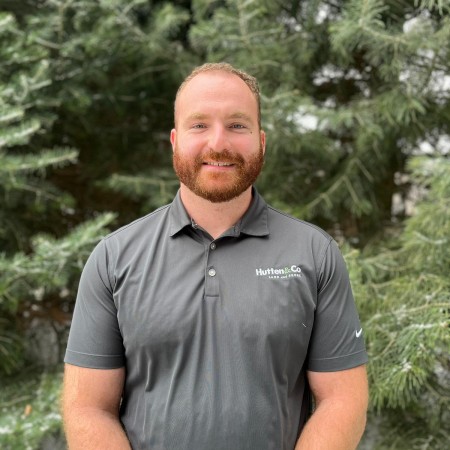 Joe is excited to be part of a customer focused company with a passionate, supportive team. He admires the natural beauty in this part of Ontario and feels privileged to help maintain that through his role as property care production manager for the gardening teams.
Originally from Manitoulin Island, Joe earned an athletic scholarship to the University of Tennessee where he competed in the shot put and discus throw. After completing a business degree, Joe worked as a project manager with a commercial landscaper in Texas before moving back home to Ontario.

When not working, Joe loves to golf, grill steaks, lift weights, ride motorcycles and watch college football!
Daniel O'Connor
Fleet/Facility Manager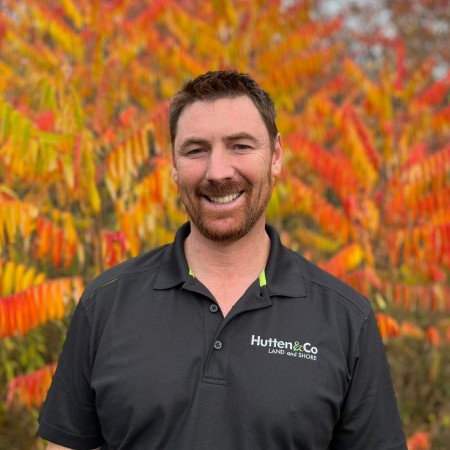 Daniel is a transplant to the charming town of Owen Sound. By day, he serves as our dedicated Fleet and Facility Manager at Hutten & Co., overseeing the smooth operation of our vehicles and premises. Outside the office, he's an avid adventurer. Whether sailing on the serene waters of Georgian Bay, hiking through the picturesque trails, embracing the winter chill with a variety of snow sports, or navigating thrilling quad trails, you'll find him connecting with the great outdoors. Daniel is thrilled to be a part of this vibrant community and to explore all that Owen Sound has to offer!
John Hutten
Founder/Support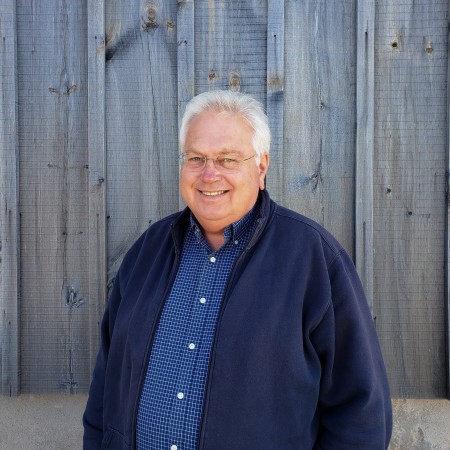 The original Patriarch, John, aka Dad, founded the business in 2000, with a machine, a truck and a whole lot of heart. His early business motto was "Yes, that's our specialty". We learned a lot! Kindness, generosity, and a focus on customer satisfaction built a strong business that continues to grow today. Now he can be found trucking about, filling in the gaps, and saving last minute delivery issues on a regular basis - let us know if you catch him!
Landscape Construction Team
Peter Beeksma
Landscape Crew Leader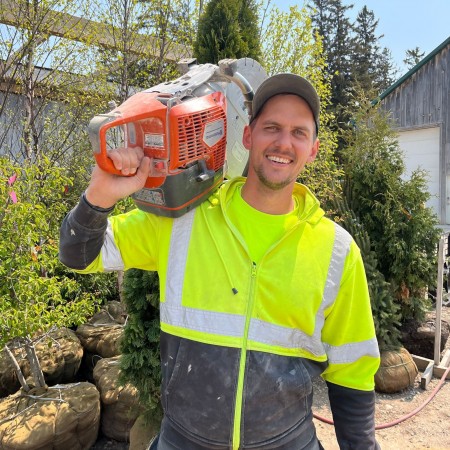 Being the son of a landscaper, you could say Peter was born to landscape! He comes to Hutten having worked in landscaping for thirteen years. During that time, he became a Certified Horticulture Technician and was heavily involved in multiple Dunington Grubb award-winning projects. Peter then went on to fulfill his dream of building his own house from the ground up.
Since joining the Hutten team, he has enjoyed the culture and working on complex projects that involve lots of variety and problem-solving. Peter brings a lot of passion, vision, and creativity to his projects. Alongside Ed and Steve, he works hard to dominate projects and elevate Hutten & Co. to new heights! One of his favorite moments was the first project he was involved in. There was very limited and difficult access to the site, but the result took a space that was useless to something absolutely gorgeous.
Outside of work, Peter enjoys hanging with friends and his awesome family including his wife and kids.
Scott Maclean
Landscape Crew Leader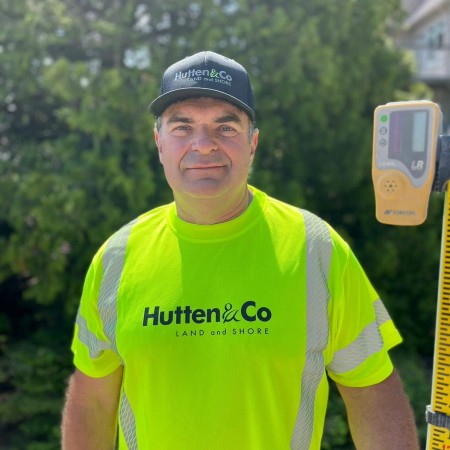 Scott takes in the craziness here with a quiet, methodical scrutiny that doesn't miss a beat. He has an uncanny handle on the entire landscape scene and a meticulous eye for detail. With over 20 year's experience in the field, he's earned it. When he isn't crafting the best landscapes in Ontario, he is likely ripping around with his son on dirtbikes! Braaaaap!
Kevin Smith
Landscape Crew Leader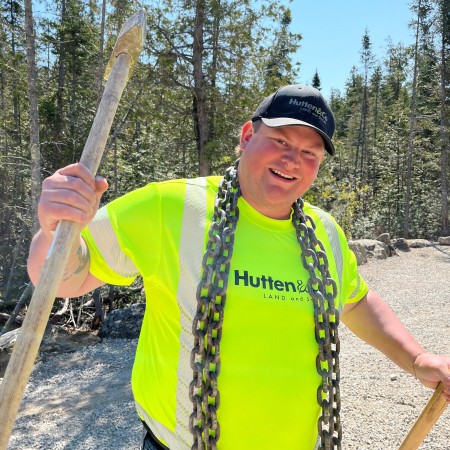 It isn't just his tremendous eye for detail and dedication to quality that stands out, but his quick wit and ability to boost his fellow team members up when they need it most that make Kevin a truly unique part of our team! Never shy to lend a helping hand or go the extra mile to see a task or a job through, Kevin takes amazing pride in leading his crew to create a beautiful project.
A family man through and through, you'll often find Kevin and his wife at the rink supporting one (or more) of their 4 amazing children at hockey, box lacrosse or just taking in an Owen Sound Attack game. Once in a while, you just might find him on the ice as well (on his pretty killer outdoor rink!), teaching his children the same hockey skills & drills that helped him as a young hockey player. The love for the ice doesn't stop there for Kevin either, as his love for ice fishing (and traditional fishing!) is often conversation points around the shop and job site.
Laurie McConnell
Landscape Crew Leader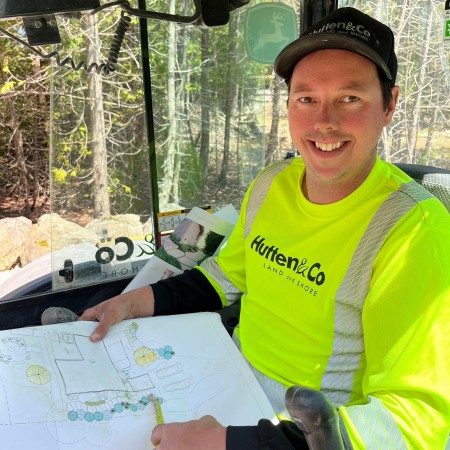 Laurie - the everything guy. Professional snow clearer, seasoned dock service veteran, skilled machine operator and landscape tech, and dedicated family man, Laurie is an excellent addition to the team. Somehow, he is always smiling, even when you'd expect a frown. He's also been known as the home depot guy, where he's taken home several consecutive employee awards in a row. The reason is obvious; he'd cheerfully give you the shirt off his back. No questions.
Cole Martin
Landscape Crew Leader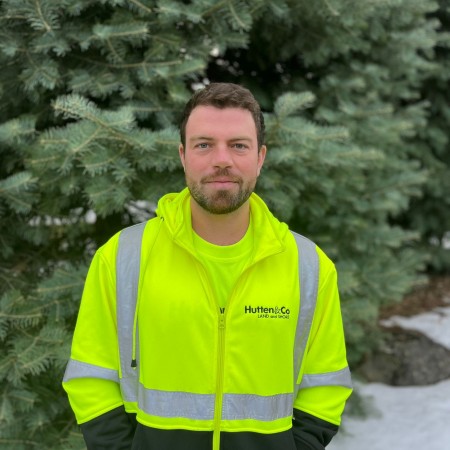 Matt Montgomery
Landscape Lead Hand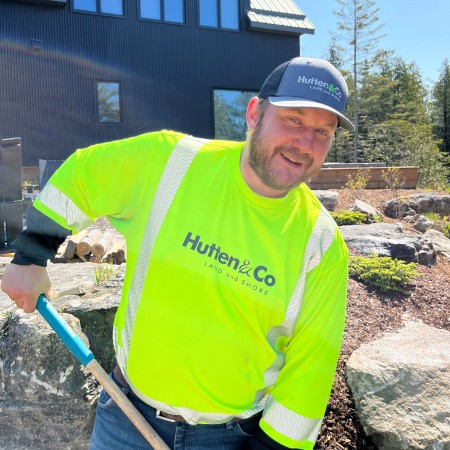 Matt AKA "Gummy" comes to Hutten with a background in general construction, building homes, bunkies and decks up the peninsula. He loves continuing to work in the outdoors, creating cool scenery that can be enjoyed for years to come.
Gummy is passionate about the team, making sure everyone is lifted up and in good spirits, to do our best and keep our customers happy. He enjoys getting to work with various team members to see different ways of doing things and learning to work with all sorts of skills and abilities. He is a quick learner with great attention to detail and has taken a new interest in planting work. Gummy also has a lot of fun working on the snow team with the late nights and early mornings, pushing it to the limit!
On the weekends he enjoys spending time with his wife and daughter checking out parks or floating on the lake or river.
Edward Brillinger
Landscape Lead Hand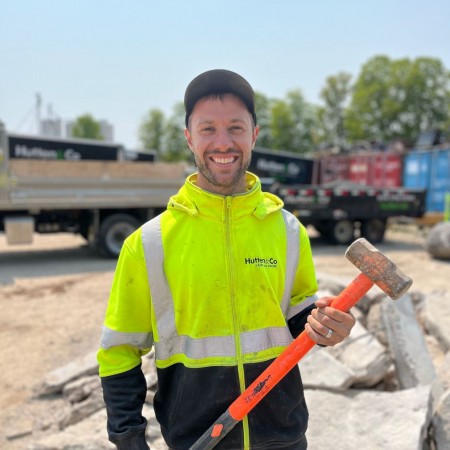 Ed comes to us with experience working as a farmhand, plumber, and in general construction. He loves being a part of the Hutten team as he gets to work outside, drive tractors and work with some pretty sweet people. He also loves the culture and the opportunity for growth. Ed's greatest strengths are his biceps and his big welcoming smile. He is an optimistic team player with "lit" tractor skills. Outside of work, Ed enjoys campfires, sports, BMX, treasure hunting, and watching Disney movies with his wife and kids.
Nick Varley
Landscape Lead Hand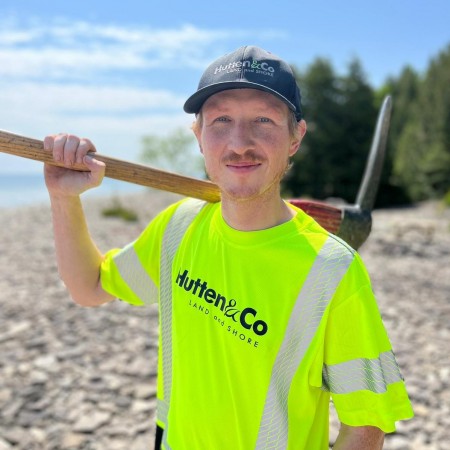 Nick was working inside all day as an Engineer when he stumbled upon the world of landscaping. He applied to Hutten & Co. for both landscaping and docks. Drawn to working with stone and wood, the landscape construction department was a great fit.
He enjoys working with the quick cut and jumping into any machine. With his commitment to quality and attention to detail he excels at cutting straight lines and placing boulders just right.
A highlight for Nick was when he got to see a swim spa lifted in over the client's house, very cool! Nick often collects rocks and fossils while at work, he is running out of places to keep them at home.
Nick continues his love of landscaping outside of work, creating "under water landscapes" in his aquarium full of fish and live plants. He enjoys collecting hobbies, learning new skills and also spends time woodworking.
Julian McConnell
Landscape Lead Hand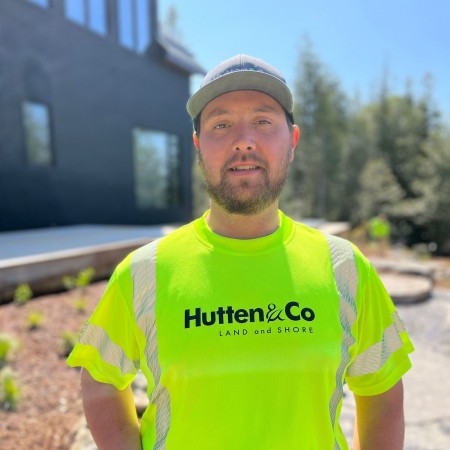 Julian, also known as "Dewey" came to Hutten following in the footsteps of his big brother Laurie. Previously working in maintenance on commercial properties, he was happy to go from a parking lot into nature.
He enjoys being outside all day, watching projects go from bare landscapes to a beautiful patio and the challenge of progressing each day to be better. Dewey knows his way around shovel and would be happy to do flagstone patios from April through December (except when wet cutting is involved!) He is a quick learner and keen to apply his skills, taking our summer students under his wing and teaching them the ways of the world. He is very proud to have entered his employment fairly green and worked his way up to a Lead Hand, which is a personal challenge he absolutely crushed!
You can usually find Dewey at a barn when he's not landscaping, mucking stalls or trailering horses.
Adam Johnston
Landscape Lead Hand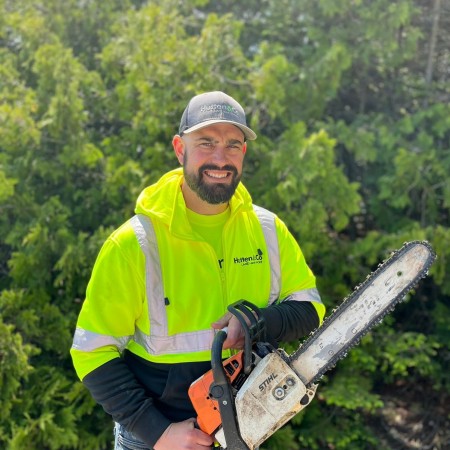 Self-employed and working on home renovations up North, Adam decided to relocate to the area. He was looking for a company with a good culture and found it at Hutten.
Adam brings his skills in carpentry, building decks and fences. He enjoys getting to learn something new every day and showcasing how we can go above and beyond for the customer. He has really enjoyed working on a project at Summer House Park, seeing the excavation through the final result, and getting to enjoy the space as a company at our summer party.
Adam enoys spends his time outside of work with his kids, in the great outdoors, camping or playing basketball.
Jackson Dunn
Landscape Lead Hand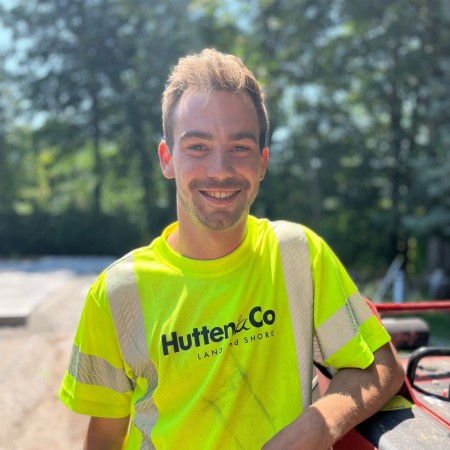 With 5 years of experience in building patios, Jackson was looking for a change in his environment. Upon relocating to the area he came across a good opportunity to join Hutten & Co.
His team "loves that he's a beauty", and he gets along great with everyone! Jackson is skilled in excavation and laying patios. He enjoys working through the order of operations and always keeping ahead of the job. The most rewarding part of the job for Jackson, is seeing the change in the landscape to something brand new. He also loves the structure and how open and nice everyone is.
Outside of work Jackson enjoys snowboarding, camping and traveling.
Brent Cleave
Landscape Lead Hand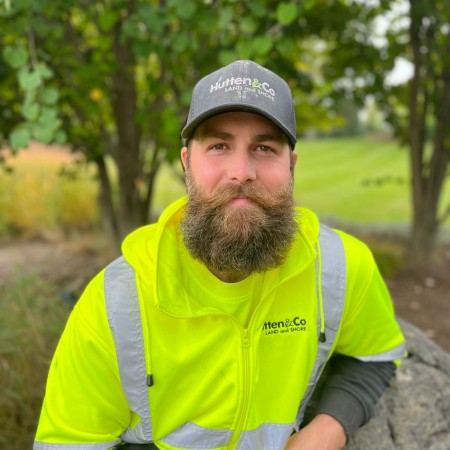 After growing up in rural Southern Ontario (shoutout to Hensall, the "White Bean Capital of Canada"!) and designing landscapes, golf courses & clubhouses instead of working the family farmland, continuing on to the landscape design and build world always seemed like a natural fit for Brent.
After nearly a decade in landscaping, combined with an education in business management and project management, the captivating beauty of the Grey and Bruce Counties were calling his name!
Providing a remarkable experience for clients and bringing their dream project to fruition is what drives Brent's passion. With the belief that we are all hardwired for connection, Brent is always looking forward to bringing people closer to their living spaces, environments, friends and family.
Brent has completed a wide variety of projects throughout his career, but having the opportunities to help build the dream landscape and outdoor living spaces for an NHL team captain as well as his family were both incredible experiences!
Away from the office, you can find Brent on the golf course wherever and whenever possible, strength and conditioning training, visiting new Ontario craft breweries or brewing his own craft beer creations at home!
Matt Bristo
Landscape Crew Member
Matt comes to us from a local golf course where he was working as a superintendent. He enjoys working at Hutten & Co. as everyone is so friendly and he feels like he is family!
Seeing how a project turns out is the most fulfilling part of his job. Along with working in our construction team (and helping out the docks team from time to time), Matt is also an Irrigation Technician. He is completing an online Irrigation course to improve his knowledge and skills.
When Matt is not at work, you can find him playing video games, golfing, wakeboarding, or volunteering with animals.
Brody Snow
Landscape Crew Member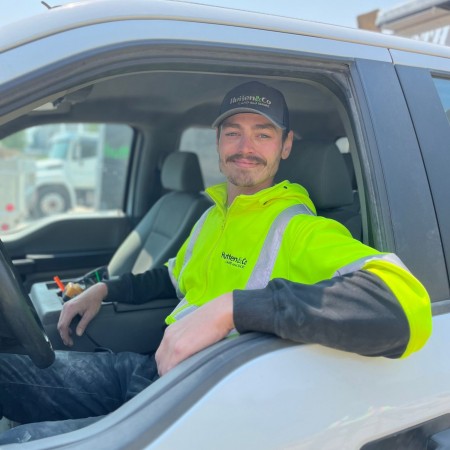 Brody had spent many seasons working at various golf courses when he decided to look for a challenge in his career. He did his research and scouted out other companies, but Hutten & Co. stood out from others because of its structure, values, and stonework projects.
He enjoys learning something new every day, being a member of the team, having fun with his crew, and getting his hands dirty. He is passionate about the process, from demolition to pridefully looking back at a completed project.
Brody enjoys taking trips to visit his family out East, working on vehicle mechanics, golfing, skiing and spending time with his dog.
Brandon Frillman
Landscape Crew Member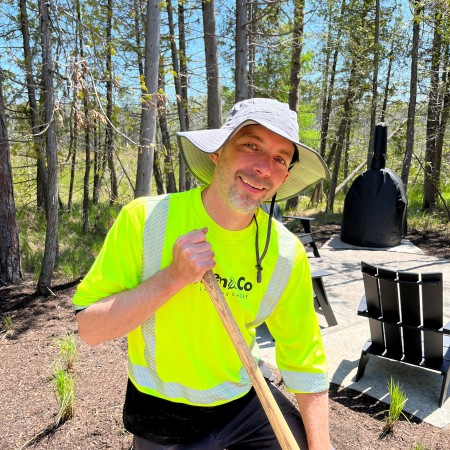 Previously working in construction, Brandon was looking for a change. He decided to join the team at Hutten & Co. and loves it! Going to different job sites and contributing to creating wonderful masterpieces. One of his favourite projects included a boardwalk, which was a nice accent to the landscape. He enjoys playing with his daughter at the park and blacksmithing making knives, axes and the odd horseshoe.
Cam Taylor
Landscape Crew Member
Growing up landscaping, Cam has always enjoyed working outside. He was working as a carpenter, building houses before he came to Hutten & Co. Getting to see jobs come together with all the final details has been rewarding. Cam also enjoys driving all the machines! Outside of work, you can find Cam in the outdoors hiking, fishing, or hunting.
Stephen Spencer
Landscape Truck Driver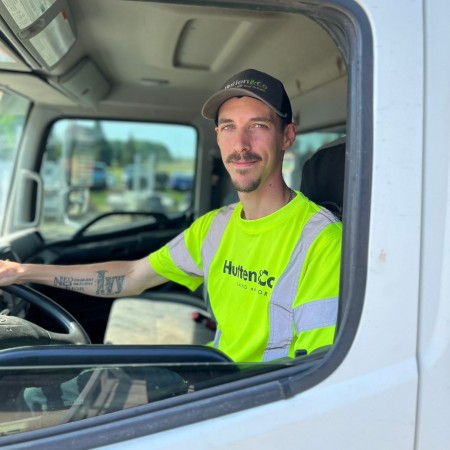 Working at a local golf course for ten years, Stephen brings a mix of experience having worked in the kitchen, pro shop and golf course. While he was there he had seen some projects Hutten had done nearby and was impressed with the high quality of work.

In planning to start his own family he decided to go back to school to get his trucking license and pursue the world of construction. He enjoys being involved in jobs from start to finish, seeing the end product come together looking nice and working well.
With his wife and kids you can find his family outside fishing and hunting. Stephen also enjoys working on his Honda motorcycle or his old Jeep.
Docks Team
Neil VanAlstine
Dock Crew Leader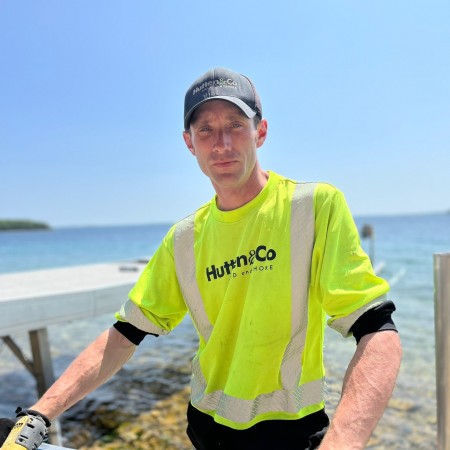 Born in Orangeville On, Neil spent the first 34 years of his life living around his place of origin. Looking for a change, Neil moved to his Wife's home town of Wiarton in late 2019 to escape the dramatic sprawl of the GTA.
Hutten and Co. was Neil's first choice of employment after moving up to the area, and he is happy to say; has been by far the best place he has ever worked.
After his move, Neil had some time to search for long-term employment, and Hutten's professional online presence and core values were an immediate attraction; as well as an early indicator of things to come.
Although, at the time, Dock service was completely new to Neil, the Dock Service Career paths' eclectic technical and physical requirements fit right in with Neil's equally eclectic work experience. A professional musician in his teens and early 20's, as well as his warehouse management experience, Neil was well positioned to excel at on-site customer relations, while working in a fast-paced environment.
Years in the portable toilet industry, as well as landscape construction, masonry, and agriculture had him quite comfortable working in less than ideal conditions, while problem solving under duress.
Neil is extremely happy to be able to put a lifetime's worth of skills into, and toward one profession, and finds Dock service to be the most enjoyable form of employment he's participated in, thus far.
"It's great to be outside, with great people, doing a great job, for people that really appreciate it"
-Neil VanAlstine
Walter Morissette
Dock Lead Hand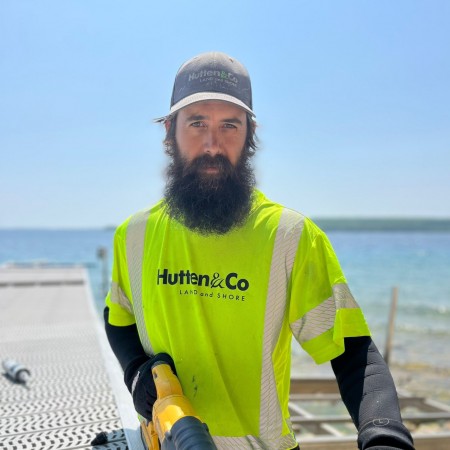 Walter came to Hutten previously having worked in a metal shop. He was happy to find a job closer to home where he gets to work outside and has great benefits.
Walter enjoys the tranqil views and the amazing mentality of his crew. His favourite job at Hutten so far invloved multiple lifts with a very rocky access, they completed the installtion sucesfully, and made it out with no injuries! He is not afraid to tackle anything, when asked to do something new or out the the ordinary his repsonse is "how do I figure this out" with enthusiasm.
Walter shares his talents as an amatraur musician both at work and after hours whether he is singing or playing guitar at the shop, on a job site or practicing with his band.
Adam Kers
Dock Crew Member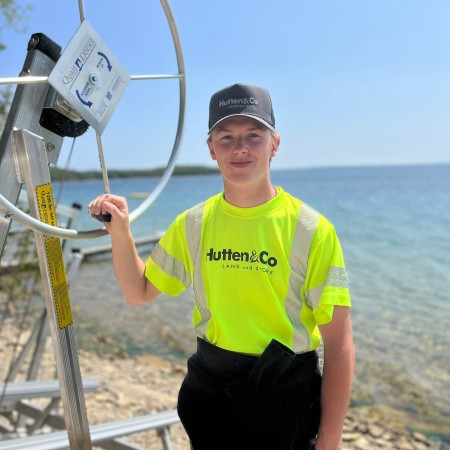 Adam was itching to get out of the classroom and into the workforce. Joining Hutten as a co-op student, he has had the opportunity to do a bit of everything! Working in the shop, in the yard, with the docks crew, or wherever he is needed, Adam's motto is "Coach, put me in!"
Adam has enjoyed all the places we go, the people we meet, and the jobs we do, it's something unique and different every day. He has most enjoyed trips up the peninsula, seeing the Chi-cheemaun in Tobermory while installing a dock was a very cool moment.
As soon as he is done work, Adam is typically off to a sports game, playing baseball or football. He also enjoys ATVing and trips to Sauble Beach with his girlfriend, family or friends.
Property Care Team
Marina Warhurst
Property Care Crew Leader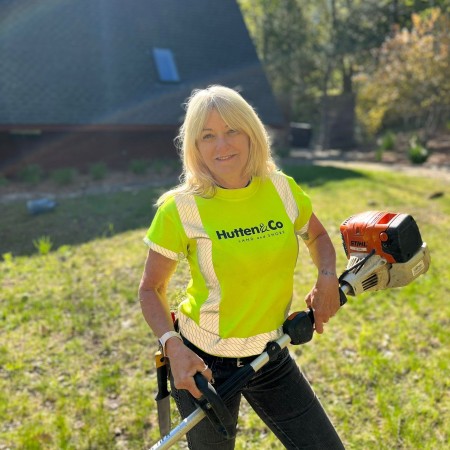 Marina was born in England but has spent most of her life in Canada, between British Columbia and Ontario. She moved from Whistler back to Ontario, and now lives in a little town outside Hanover.
Marina has over 20 years in the landscape industry and has recently pursued computer studies. She gladly accepted her position at Hutten & Co. and has been learning a lot from her coworkers, while bringing her own expertise to the table!
Outside of work she has two amazing children and one grandchild. She also enjoys spending time in her garden where she harvests fruits and vegetables to make dishes for hosting dinner parties. In the winter she enjoys skiing with friends.
Ron Cormier
Property Care Crew Leader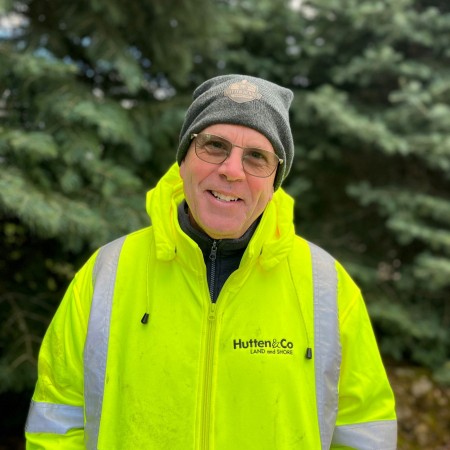 Roxanne Everitt
Property Care Crew Member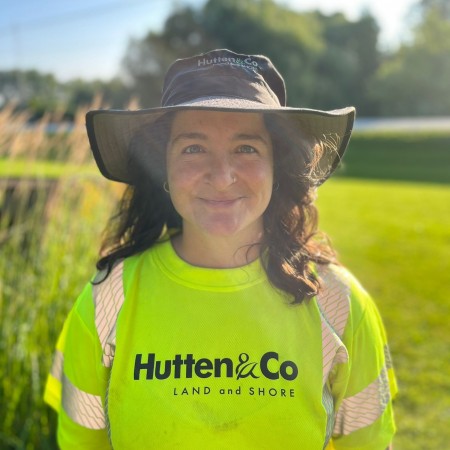 Roxanne has come all the way from England and had scouted out working at Hutten before she even arrived! After studying for a degree in Ecology at Cardiff University, she developed a passion for plants. Before joining us, she worked on an organic vegetable farm selling herbs and flowers to fancy restaurants in England.
Makeover jobs are Roxanne's favourite. She likes the transformation of a garden needing some love, to a garden with crisp edges and fresh mulch. She has an eye for detail so weeds are rarely missed.
In her spare time, she likes to cook. Especially Japanese and South Korean food. But nothing beats a picnic out in the Canadian countryside, where you will find her at on the weekend!