For some reason, food just seems to taste better when it's grilled outside! There's something special about dining "al fresco" too… an ordinary meal becomes something fresh and new. With an outdoor kitchen, you can do this, while having generous room for prep and entertaining, right next to your grill.
I know I'm not the only one to feel this way. Outdoor kitchens have become increasingly popular… but most people aren't sure what kind to get or where to even start.
If you have your outdoor kitchen built by Hutten & Co. it's really pretty simple — we typically recommend an Urban Bonfire outdoor kitchen. They're a high quality, durable and very functional system. But if that's not for you, a custom natural stone kitchen is also an option! In this post I'll give you the benefits of both, so you can decide which one is right for you.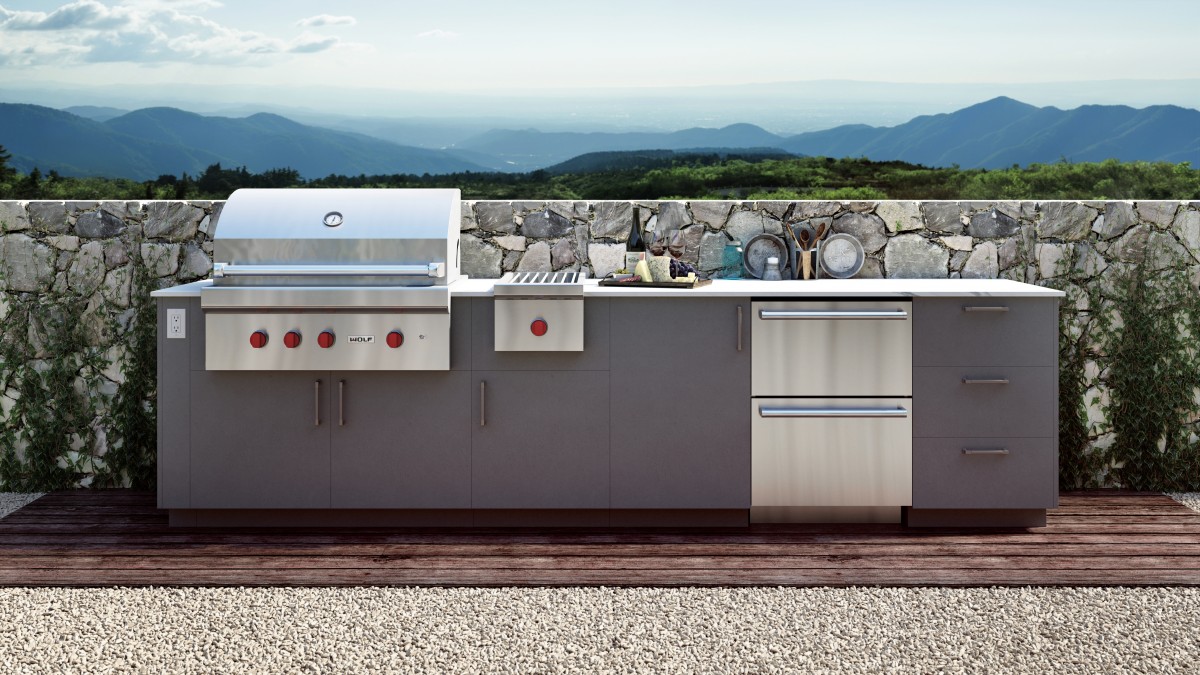 Urban Bonfire — a confident choice
Urban Bonfire is a company from Montreal who specializes in designing and manufacturing outdoor kitchens — so you can bet they know a thing or two about building for the harsh Canadian climate!
Here are some of the reasons we love outdoor kitchens from Urban Bonfire, and why this is our number one recommendation:
They have very functional cabinetry options: Unlike your typical natural stone outdoor kitchen, an Urban Bonfire kitchen includes many options for each cabinet — like open (or closed) shelving for storage, garbage canisters and sliding drawers for utensils, plates and more.
They're very customizable — They have a number of different colour and handle options so it's easy to get the look you're going for — from modern to rustic. They can also be built to accommodate different types and brands of appliances and the layouts are fully customizable.
They're made with superior materials — Urban Bonfire outdoor kitchens are made using marine-grade aluminum, which is thicker (and lighter!) than stainless steel. They use a NACRAĒ™ finish that is durable, sustainable, anti-microbial and comes in a variety of colours. It also won't mold or rot like cabinets made from wood.
They're easy to install — Once the plumbing and electrical are in place, it's a simple matter of setting up the different components and equipment, so installation is fairly quick.
Counter options are high quality & low maintenance. No more stains! Set down your hot dishes right on the counter. Embrace the extreme weather. It's all easy with a Dekton counter, the surface recommended by Urban Bonfire.
You can put them right on your patio or deck — They come with their own "feet" so there's no need for a footing of any kind.
You can take it with you — Because it's not permanent, you could take it with you if you move (or leave it to add value to your property!).
Come to our office to see our Urban Bonfire display in person, and we'll show you why this product is our favourite choice!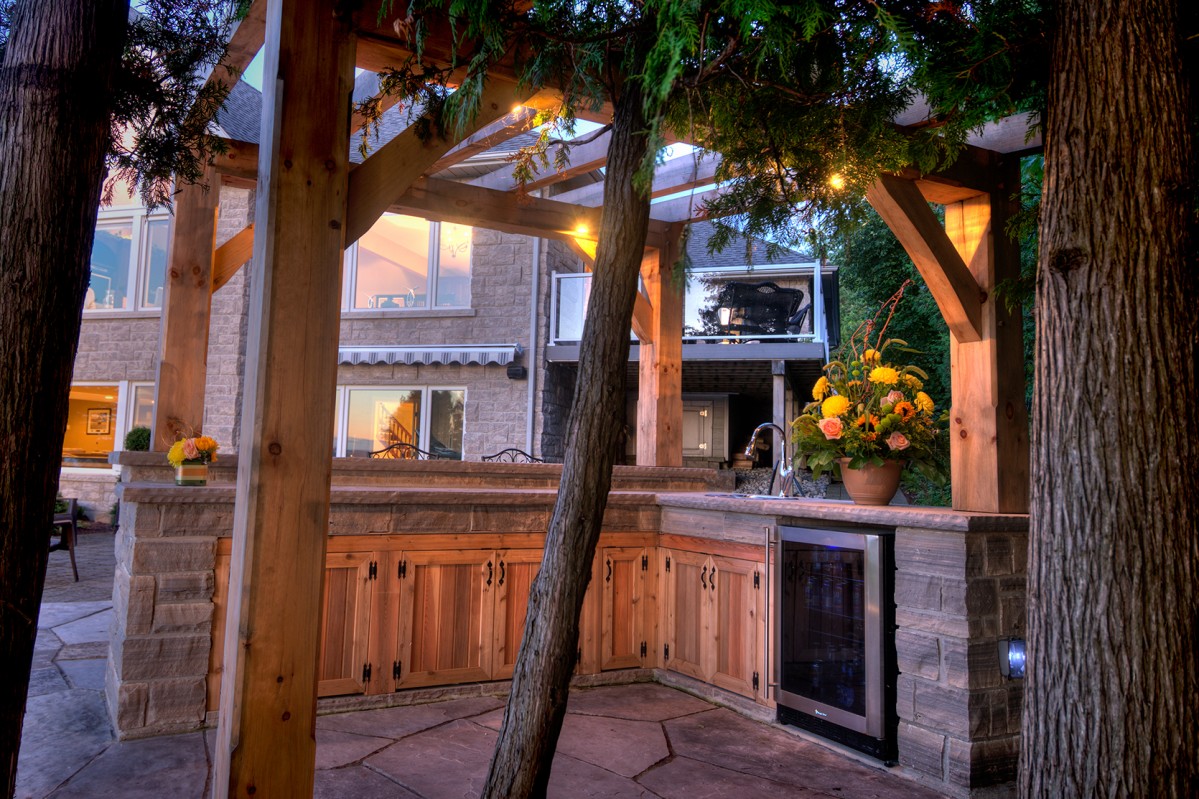 The timeless beauty of natural stone
As an alternative, you could consider a masonry, natural stone kitchen. Besides their undeniable aesthetic appeal, outdoor stone kitchens have these benefits:
They blend seamlessly into their surroundings — Natural stone kitchens match the aesthetics of the rest of your landscape, transitioning beautifully from your stone wall, path and patio.
You can incorporate integrated structures. With durable concrete footings, heavy overhead structures like a rustic timber pergola can be added to create increased definition to this space.
They're worth protecting — Natural stone is beautiful, but it's going to take a bit of protection to keep it that way. Just wipe it down with a neutral cleaner, stone soap, or a mild liquid dishwashing detergent and warm water. Don't use a heavy concentration of soap, though, or your stone finish will develop a film. To avoid stains, we recommend that you regularly seal natural surfaces will make cleaning even easier.
As you can see, there are many reasons why an outdoor kitchen made with natural stone would be a good choice — but there are a few drawbacks. They generally need a footing or concrete base of some type, take longer to install and have a higher price point.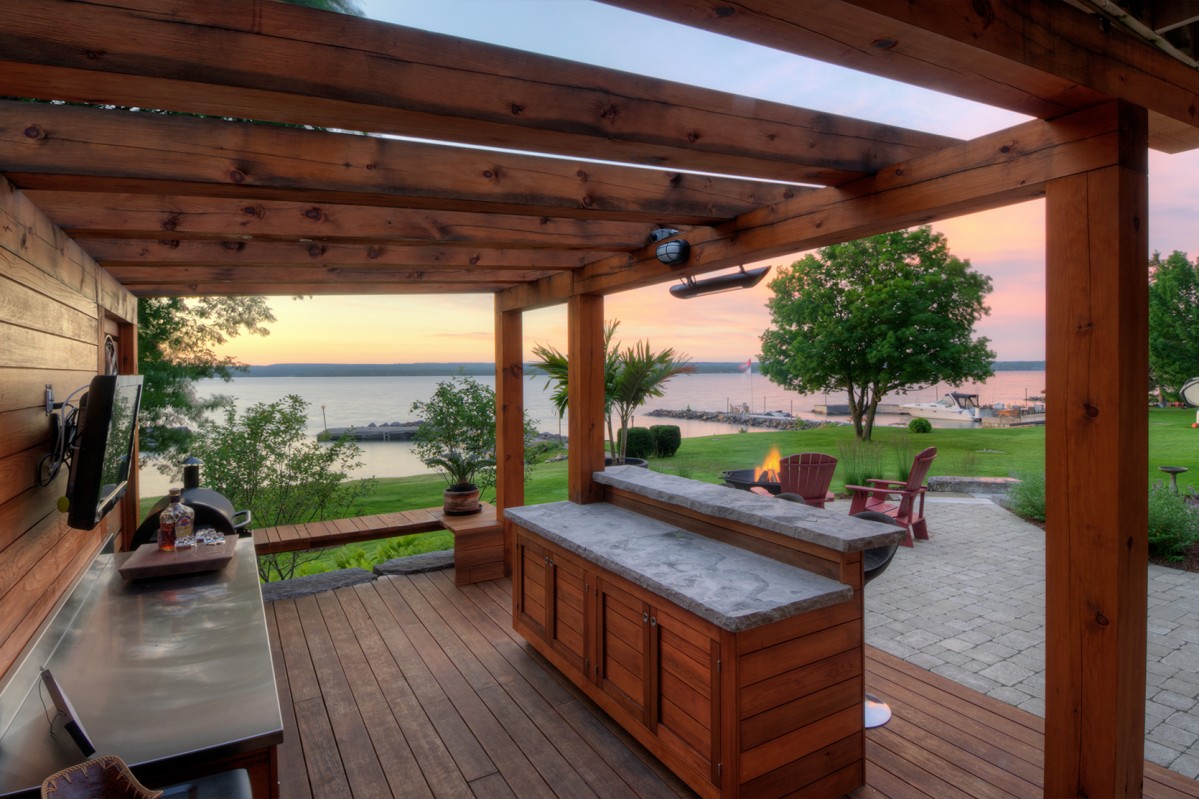 An outdoor kitchen is more than just a place to cook.
It's a place where friends and family can connect and make happy memories — laughing together outside, drinks in hand, while you prep your meal and enjoy good company.
If you'd like more information about building an outdoor kitchen in your backyard, we'd love to chat with you about it. Just book a meeting or give us a quick call and you'll be one step closer to your dream kitchen.