If you're stuck trying to choose between getting a hot tub or installing a pool — and you don't have the room for both — opting for a swim spa can give you the best of both worlds.
Up until a few years ago, swim spas were pretty rare. Most people considered them to be nothing more than fancy (and pricey) oversized hot tubs — but nothing could be further from the truth!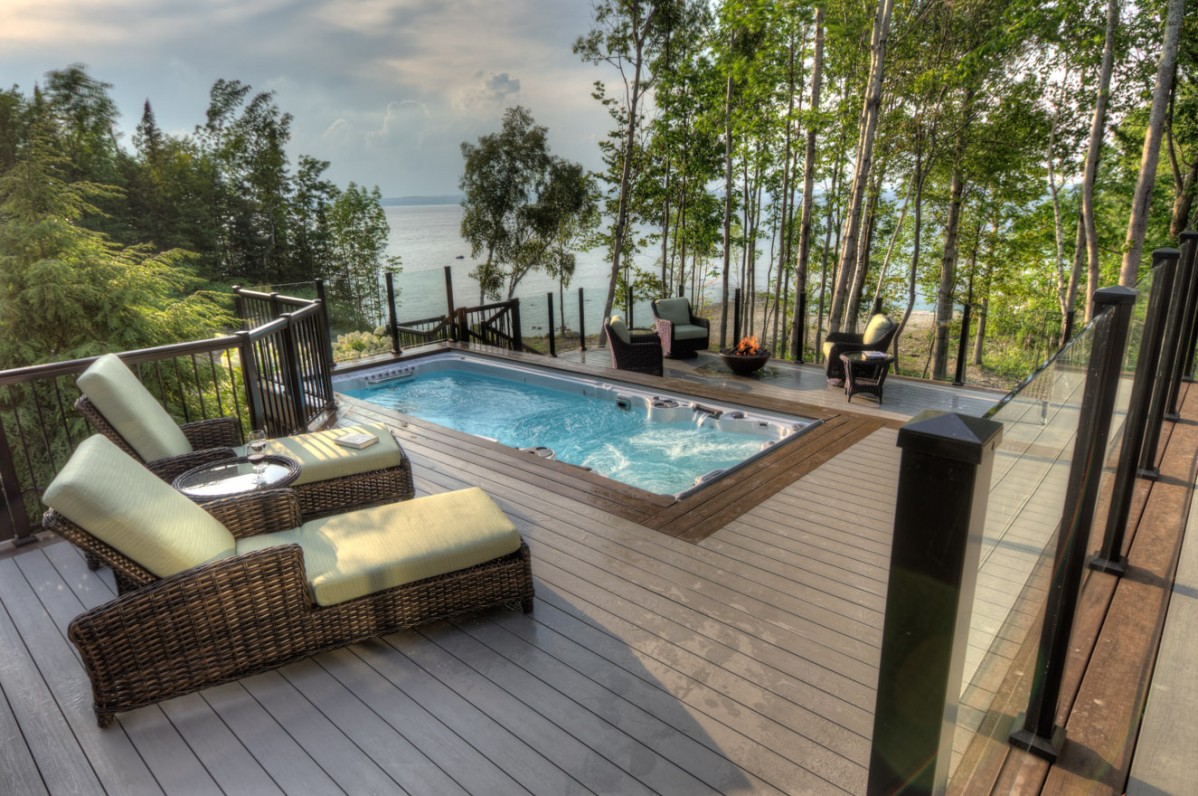 What is a swim spa?
A swim spa is a mix between a swimming pool and a hot tub. It's larger than a hot tub but substantially smaller than a pool. You get the best of both worlds, too — you can swim and exercise in the water and also increase the heat so you get the same therapy you would from a hot tub!
Swim spas are versatile — great for soaking, swimming and playing. Strong jets allow you to swim continuously against a water current without "hitting the wall" or having to turn around to swim laps, giving you a great workout in a small space.
Now, more and more Canadians are opting to put a swim spa in their backyards. Here's why.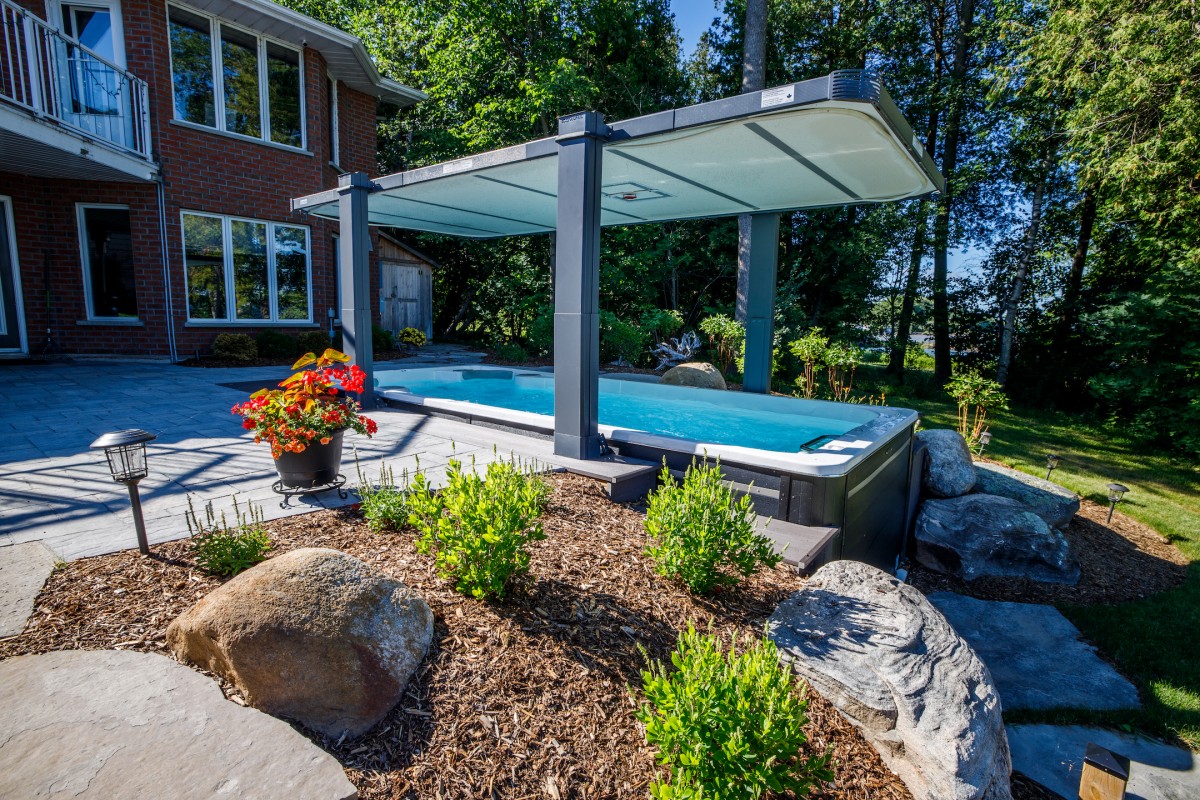 1. Swim spas extend the swimming season.
Living in the Western Georgian Triangle has many benefits — but a long swimming season isn't one of them.
Because swim spas are insulated against the cold (and are often situated near the back door) you can easily extend the swimming season. Go from just a couple of months in the summer to hosting a pool party in the middle of winter!
And keeping your swim spa at a comfortable temperature isn't as costly as you might think. You can run the pumps and heater for as little as a dollar a day (depending on the outside temperature).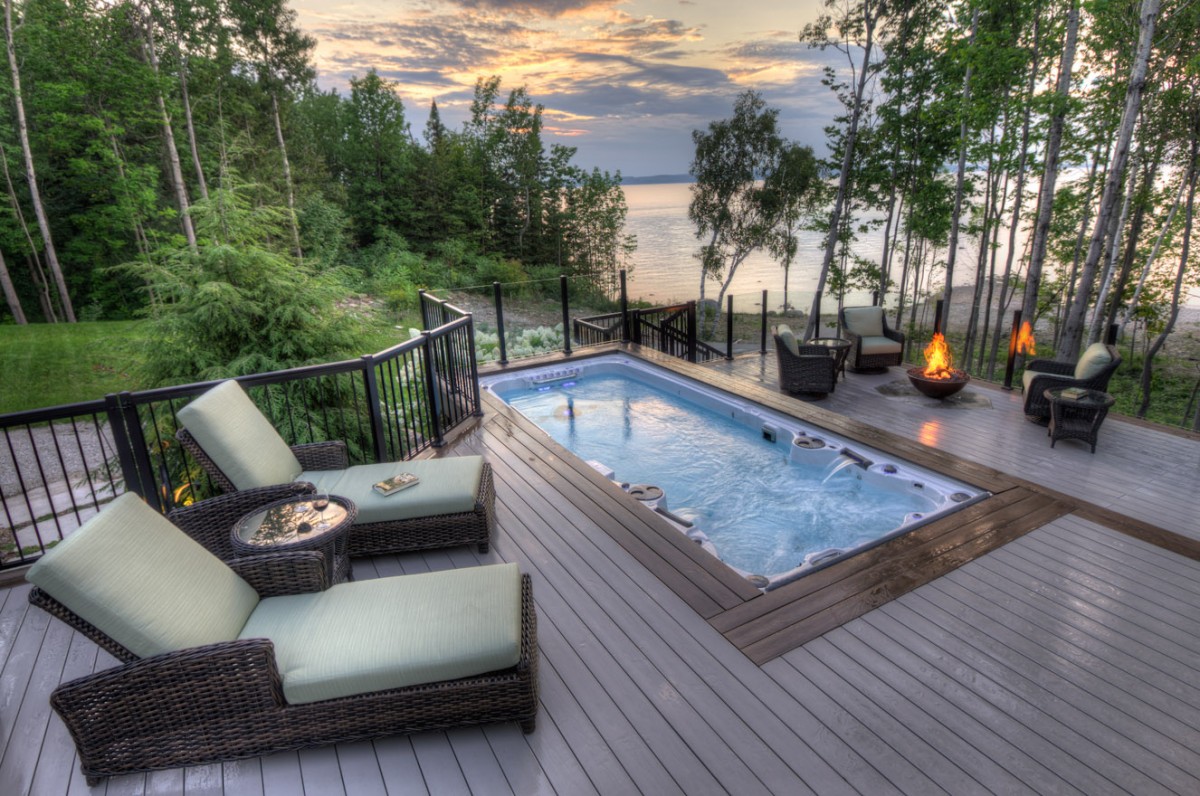 2. Swimming isn't the only thing you can do in a swim spa!
If you're the proud owner of a swim spa, you can body surf, ride a boogie board, kayak or relax in an inner tube while you float down the lazy river — without leaving your backyard!
Swim spas come equipped with powerful jets that mimic natural currents and waves which creates resistance — making them perfect for water sports. You can swim laps without being frustrated by only getting a few strokes in before you (literally) hit the wall. It's the ideal training environment for both athletes and casual swimmers — you'll feel like you're working out in an Olympic-sized pool!
The resistance caused by the current is also good for people who want to build up their strength and stamina or who are recovering from an injury (or want to use the cushion of the water to prevent injury).
With a swim spa, there are no limits to your family's fun or your exercise. If you can think it, you can do it!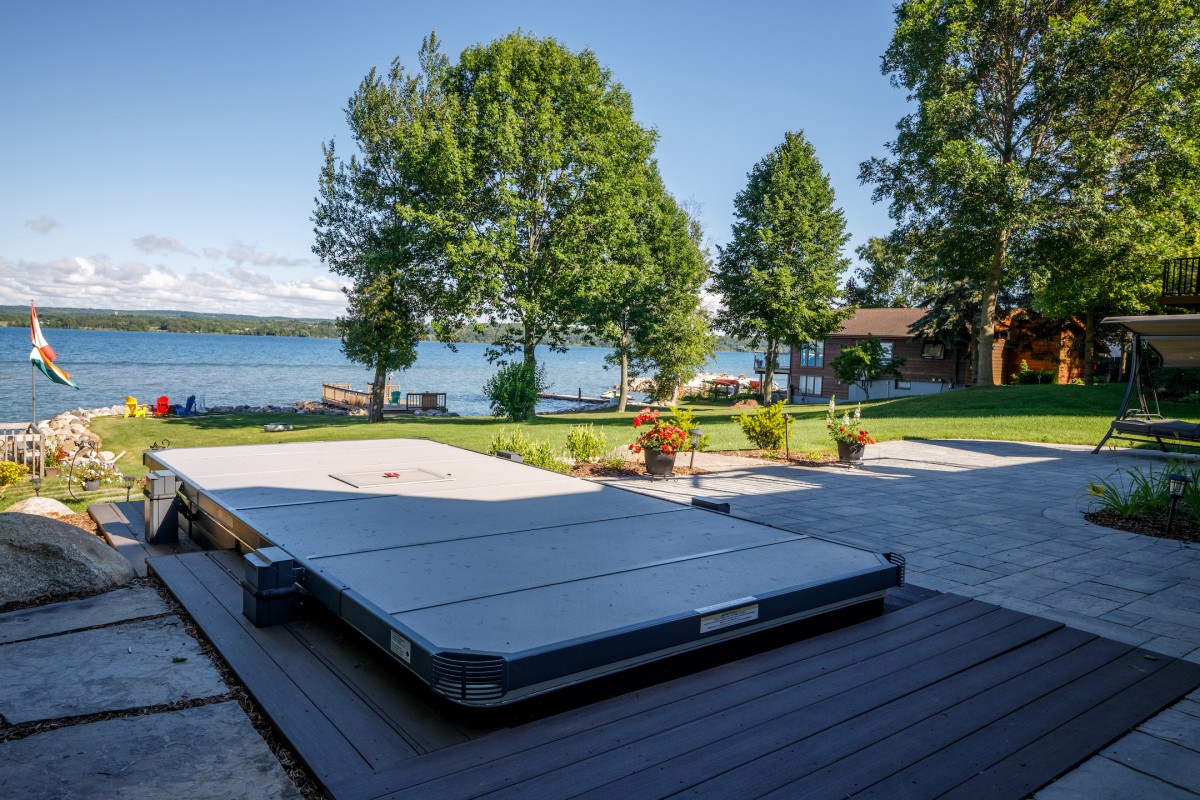 3. A swim spa won't dominate your yard.
If you love lounging around the pool on a hot summer's day, having a huge, inground pool as the focal point of your yard might be just the ticket for you.
But if you want to add other enhancements — such as a firepit, pergola or a full outdoor kitchen — you might not have enough yard to go around. (Or maybe your yard is heavily treed or sloped, making it a challenge to install a full-sized pool.)
If space is an issue — for whatever reason — a swim spa makes it possible to have an aquatic retreat in your backyard without sacrificing huge amounts of real estate. You can relax and unwind in the "hot tub section," swim laps against the current or chill with friends and family with a glass of wine in the evenings.
And as a further benefit, swim spas don't need expensive and intrusive fencing, so you don't have to worry about strategic landscape designs to make a pool fence "disappear."
Choose your colour!
4. Take it up a notch with custom upgrades.
Swim spas come with countless options and fun accessories. You can truly personalize your spa to suit your mood — creating a dreamy and soothing ambiance for midnight soaks or an upbeat party atmosphere when you want to "hang ten."
LED lights come in a variety of colours, which can be fixed on your favourite hue, or programmed to show an array of colours in sequence. In addition to lighting up the controls, lights can be strategically placed to showcase special features such as waterfalls or landscaping.
Bluetooth audio lets you surround yourself with sound — whether you like to relax while listening to the soothing sounds of nature or hop on your boogie board and blast out your favourite tunes.
Water features, such as waterfalls and spouts are a soothing addition — making it an exciting experience for guests and extra fun for kids.
Want to take the plunge into a swim spa?
If you're interested in discovering more about swim spas — such as how easy they are to install and how affordable they have become — feel free to give us a call so we can chat!