At Hutten, our primary focus is creating beautiful spaces where people can relax and unwind, surrounded by the rugged beauty of Georgian Bay. And the spaces we design and build for our clients often include a pool.
We've been in business for over twenty years, so we know a thing or two about pools and have been partnering with pool contractors to bring you a turnkey experience. For this post, we "pooled" our knowledge to help you understand what you need to know about pools and pool installation, so you can make informed and confident decisions before construction begins.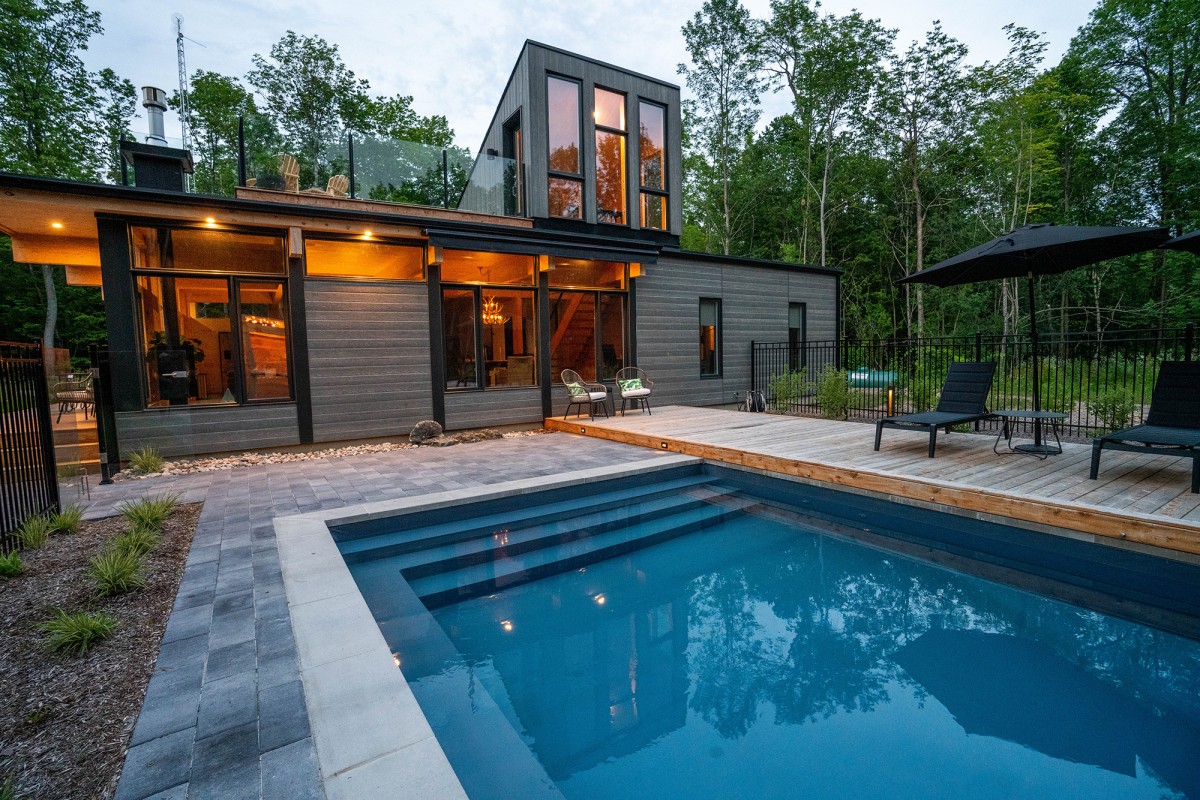 Choosing the right pool
Fiberglass — Fiberglass pools are manufactured off-site and installed in one piece so that they can be installed quickly with minimal disruption to your backyard.
Fiberglass pools have a smooth, non-porous surface that prevents algae and other contaminants from growing, making them easy to clean and maintain.

We love fiberglass pools and believe they are an excellent choice for your backyard. One thing to keep in mind though — you are restricted to the sizes and shapes available from the manufacturer. But even though they are not fully customizable, you can find many beautiful shells that include benches, ledges, and seats according to your preferences!

Vinyl — Vinyl pools are built on-site, so you're not limited by size or shape — but it will take longer to install than a fiberglass pool.
And while it is possible to add tanning ledges and other features to your vinyl pool, it's not recommended. The liner is sensitive to excessive wear and tear, which can lead to frequent liner repair or replacement.
Important Considerations — Your pool will come with basic operational features, but many other options exist, so discuss these with your pool contractor before construction.
These are some of them:
Variable speed pumps
Automation
Salt chlorination
Heater
Lighting
Winter cover options
Waterfalls and other features
Slides and more!
And don't forget to make room for your pool equipment. Often you can use a designated spot in an existing shed or we can build a structure as part of the overall design.
Safety is also a consideration — and an important one. Your pool area must be properly fenced — typically 5' high. And if you think a fence will detract from the beauty of your pool, don't worry. The fences we install are usually ornamental iron or chain-link and are part of the design, so they're beautifully integrated into the landscape by the surrounding gardens.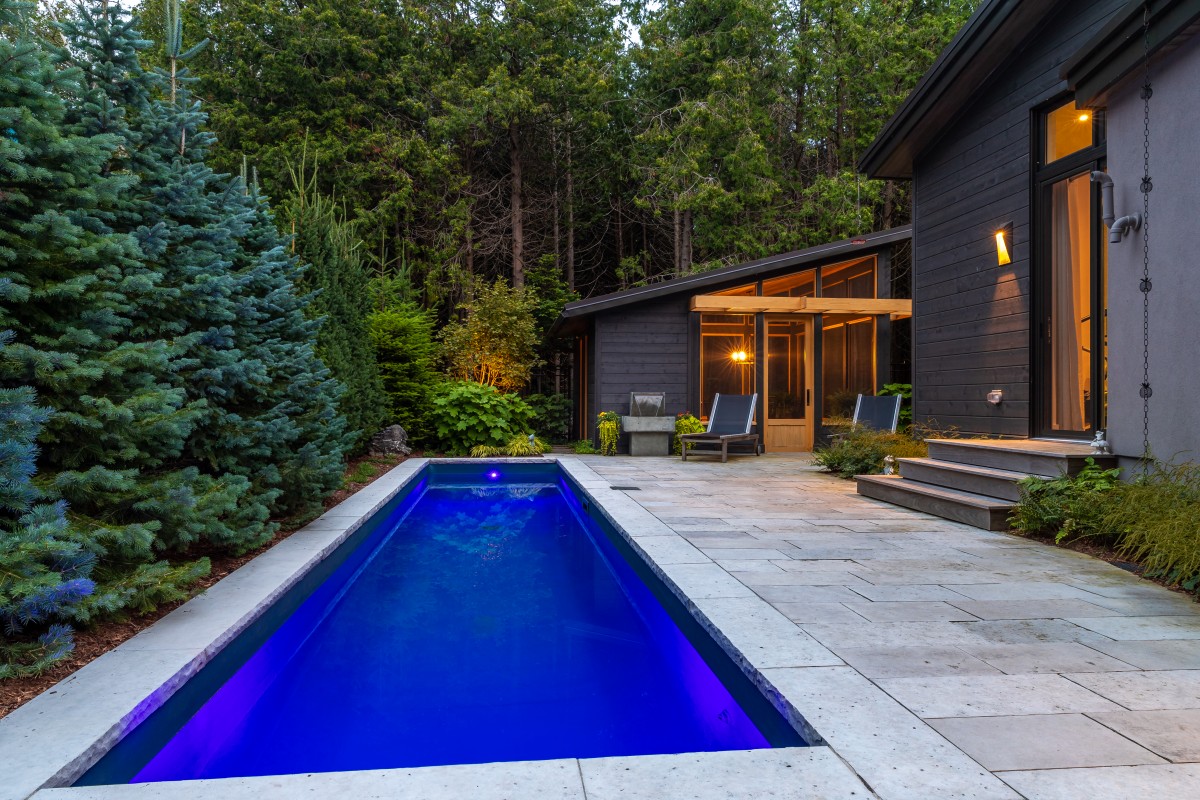 Choosing a pool contractor
You must do your homework when choosing any contractor to work on your property. A pool contractor is no different. We've worked with a number of contractors over the years and have carefully vetted them based on the following criteria:
Experience — We typically can't recommend someone to our clients unless we've seen their work, developed a good working relationship with them, and are confident in their services.
Quality — The prep work for pool installation is largely underground and unseen. The contractor we work with will use high-quality materials without cutting corners.
Warranty — Your pool should be built to last, guaranteed. Our pool contractor will provide details on their 3-year warranty against manufacturing flaws and workmanship defects (and what limitations might apply).
Aftercare — Pool opening, closing, and maintenance services are not offered by all pool contractors. Sometimes, a separate company specializing in pool service work addresses this need. Let's talk!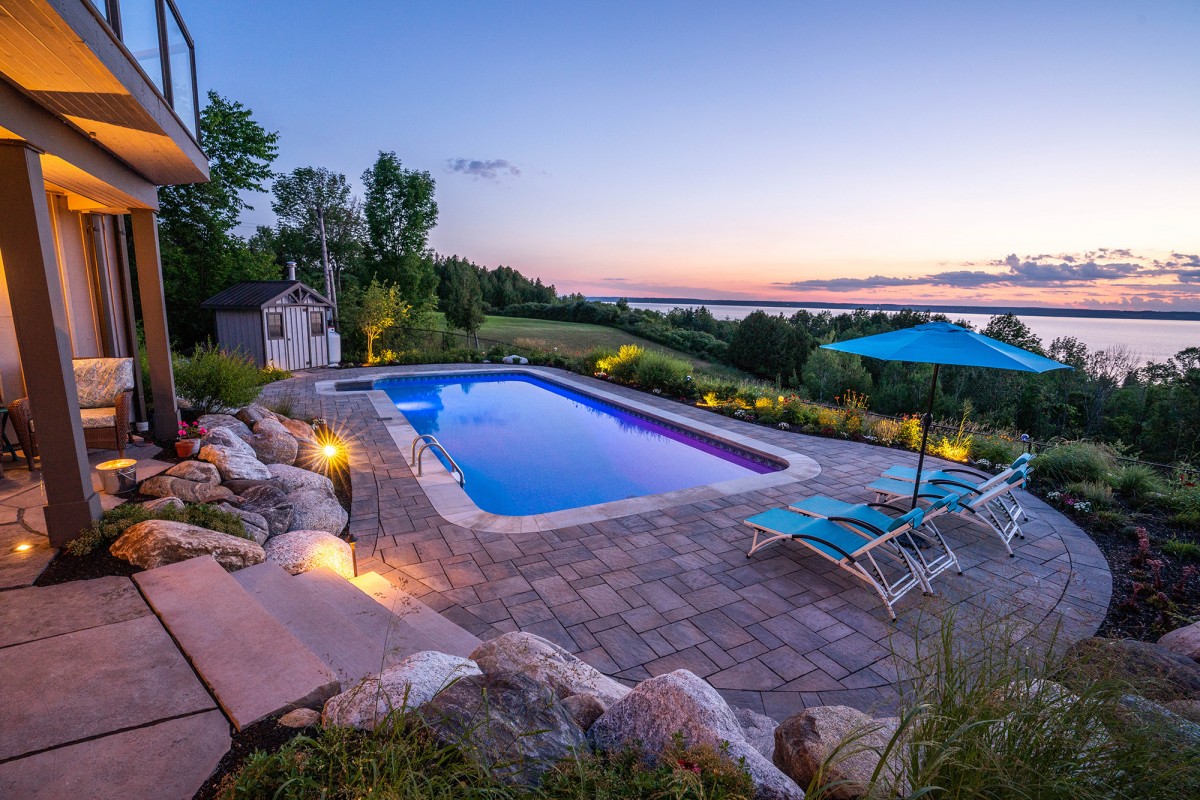 So, where does Hutten come in?
We focus on designing and constructing beautiful outdoor spaces, including pool areas. It can be tricky to envision how everything will look once work is completed — and that's where we come in
Professional landscape design — Our team designs the layout of the pool and surrounding area so it blends seamlessly with the environment. You'll be given a detailed drawing so you can even see what it will look like!
Your design could include the pool coping, pool deck and patio area, fencing, gardens, pathways, landscape lighting, special features, shade structures, outdoor kitchen…. and more! It also includes practical considerations, like permits and where to run the electrical cables.

Ongoing consultation and support — You'll receive help choosing the styles and colours to support your design aesthetics.
Budget considerations — You'll receive help choosing the styles and colours to support your design aesthetics.
Work with a trusted contractor — You'll be introduced to our preferred pool contractor to work with them directly. This "cuts out the middleman" and expedites the process.
Get all your questions answered — We'll help you understand the different chemical choices available to you and how water quality impacts pool equipment. We'll also review common equipment options and how to incorporate them into your space.
A pool is a great addition to any backyard, with plenty of options. While this post is pretty high-level, I hope it gives you the information and inspiration to start! If you'd like more information or would like to discuss your project with one of our designers, just give us a call or book a meeting. We'd love to hear from you!