Most people are familiar with architecture and interior design, but many people don't know that there is an entire profession dedicated to designing outdoor spaces. Like other design disciplines, the philosophy of landscape design is rooted in the art of combining form and function by following a set of universal principles. The result? A stunning space that reflects the needs and wants of their owner.
The best landscape designers are experts in horticulture (the art and science of garden cultivation and management) and architectural design (including building methods and materials).
Nowadays, most reputable landscape firms charge for design services the way a homebuilder does — and for a good reason. Without design, one cannot accurately estimate the cost of construction — resulting in inevitable cost overruns, missed deadlines and dreadful surprises. Even worse, the end result may not be what you expected.
Many clients who are investing in their landscape for the first time ask us what the benefits of landscape design are. Our team put some thought into how to answer that question and came up with a list of the five things that you get when you pay for a professional landscape design:


A clear plan created by experts — You likely have a vision, but a fully detailed look of your new landscape can be hard to visualize. When you work with a designer, they'll have already spent plenty of time listening to your ideas for your outdoor space. Then, they do the visualizing for you. One of our core values at Hutten & Co. is "relationships" — meaning we want to serve you with active listening and empathy. We believe we can do better than just serving you well. Your designer will strive to exceed your expectations in every interaction! We'll look at your yard the same way you do and brainstorm along with you, suggesting ideas when appropriate. So, when you pay for landscape design, you're getting a clear plan created by an expert!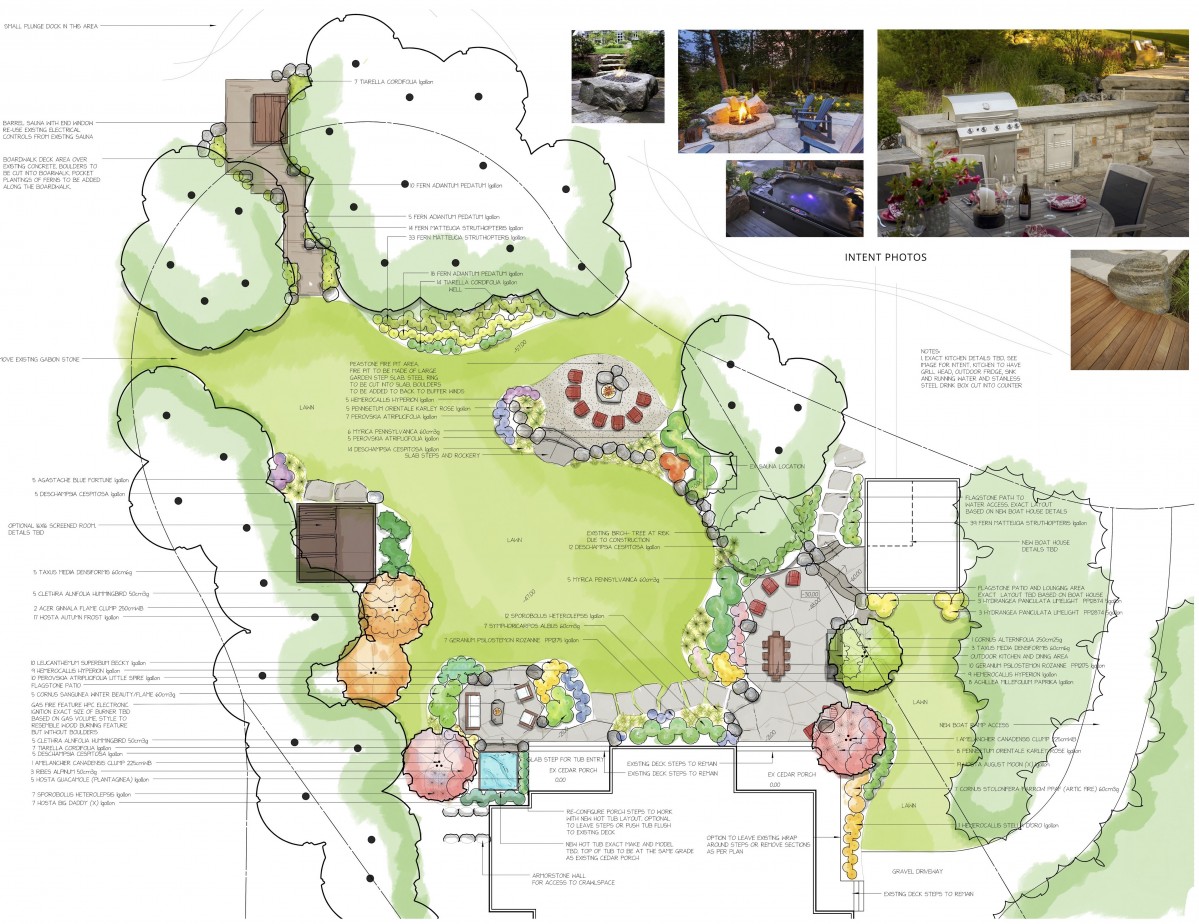 An accurate & detailed estimate — If you choose to design your landscape with us, you're choosing to get it done in-house by professionals. "In-house" is the key word here, as our team will work together to give you a detailed and accurate estimated cost for your project — no if's, and's or but's! Before a design is drawn, a comprehensive site audit is done too. We promise no surprises, cost overruns, and headaches for our clients. It's all laid out in our service guarantee, "The Hutten Way" — check it out!
A high level of quality control — Since all our design work happens in-house, when you choose to work with us, the construction is done by us — and you can opt for one of our property care packages afterwards, too. We're involved from start to finish, meaning the clear plan mentioned above will be executed to perfection. Your project manager will make frequent checks (two to three times a week) on the construction of a landscape, so no details are missed. When you pay for professional landscape design, you pay for quality!
Professional (and stunning!) designs from talented designers — Since we're on the topic of designs, let's talk about our designers' capacity and abilities. Every Hutten designer has an exceptional portfolio of designs and has a landscape design diploma or a bachelor's degree in landscape architecture. The schools our designers attended have taught their students about nearly every aspect of landscaping, from engineering to architecture, construction, stonemasonry, carpentry, pools, grading, drainage and irrigation.
A single point of contact — The major benefit of paying for professional landscape design and then following through on construction with the same company that designed it is having someone involved from the start of the project to the very end. When you work with Hutten, our designers work with you to finalize everything and make sure you have the right permits in place.
We believe that when it comes to landscaping — and doing business, in general — transparency is key. At Hutten & Co., our goal is to make as much information as possible available to you before you agree to anything.
One of the first things we'd like to share with you before our first meeting is our landscape brochure, so you know exactly what you're signing up for. Landscaping is an investment, and paying for careful planning and professional design helps secure a good return.
Find out more about our landscape design and construction process, or schedule a meeting with us today!