The area in and around Georgian Bay is breathtakingly beautiful, with over 30,000 islands, rocky shorelines, sandy beaches, forests, meadows and wetlands. The flora and fauna that inhabit the area is equally impressive, with 840 native plant species and a plethora of birds, mammals, reptiles, insects and amphibians calling it home.
To preserve this natural habitat, there are a few things to consider before landscaping your property or choosing the plants you'll put in your garden — use this guide to help you choose the best plants for your property, the environment and the wildlife who live there.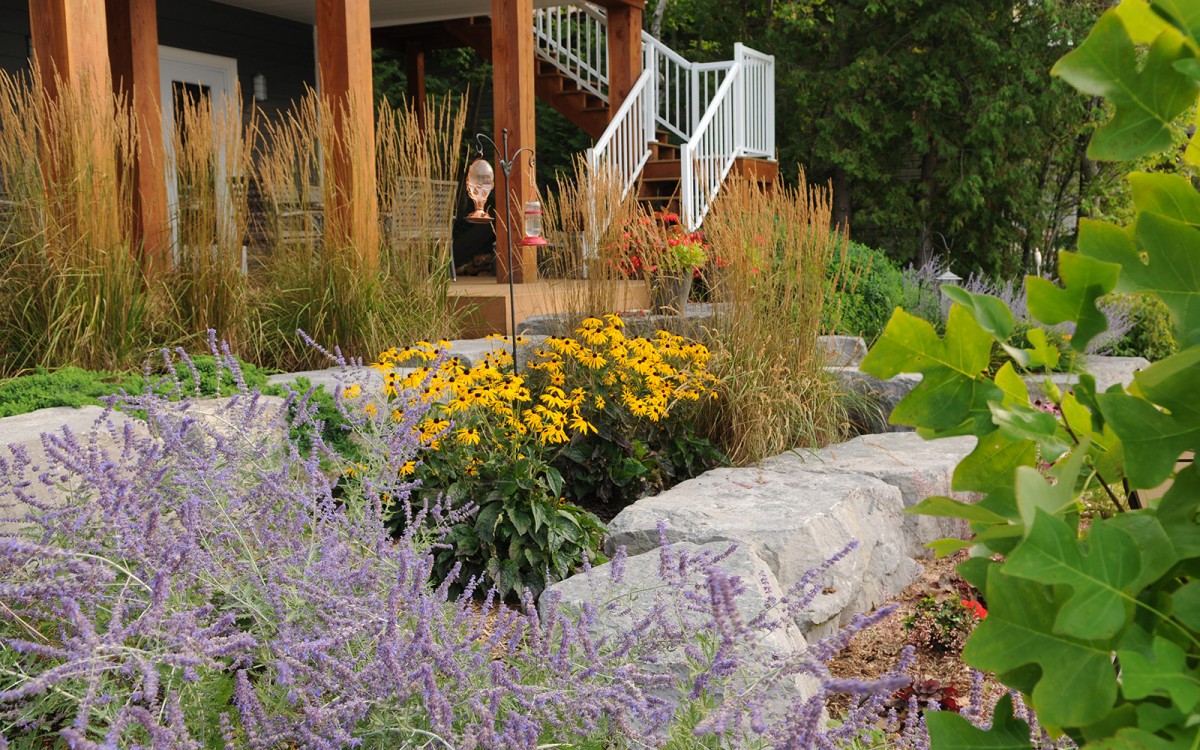 Plants for natural buffers and shorelines along Georgian Bay
If you're fortunate enough to live along the shoreline, the plants you choose will depend on the type of shoreline you have (if you're unsure, refer to our blog post "What kind of shoreline do I have?"). In all cases it's important to resist the urge to tidy it up, since fallen trees and brush provide habitats for wildlife.
Plants also protect your shoreline from erosion, as the roots help stabilize soil and filter runoff that flows into the lake.
Here are some of the plants that thrive along the shores of Georgian Bay: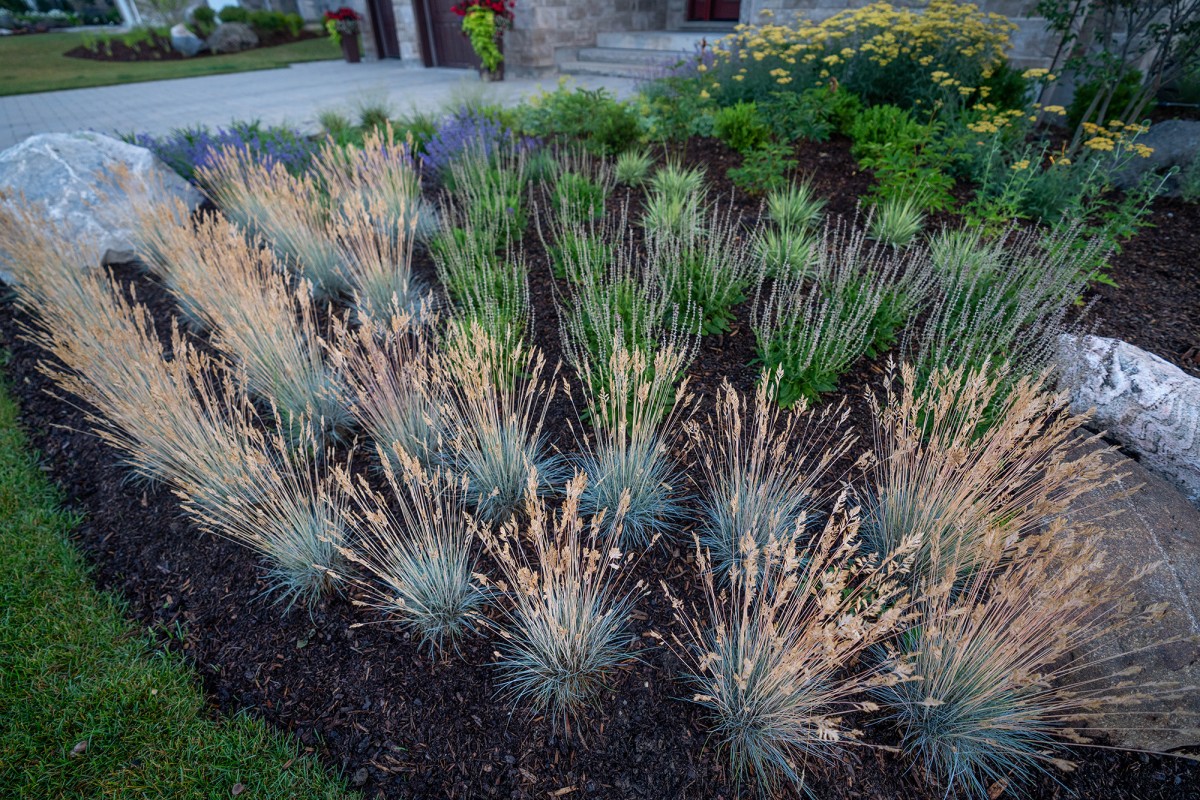 Feather grass and other reed grasses are hardy plants that are easy to maintain, adaptable to wet or dry conditions and will thrive in full or partial sun. Reed grasses form graceful mounds and produce feather-like plumes of flowers in shades of pink, purple white or yellow, depending on the variety.
They naturalize well along the shoreline, and mix in beautifully with native wildflowers — and as an added bonus their root system holds together soil and helps prevent erosion.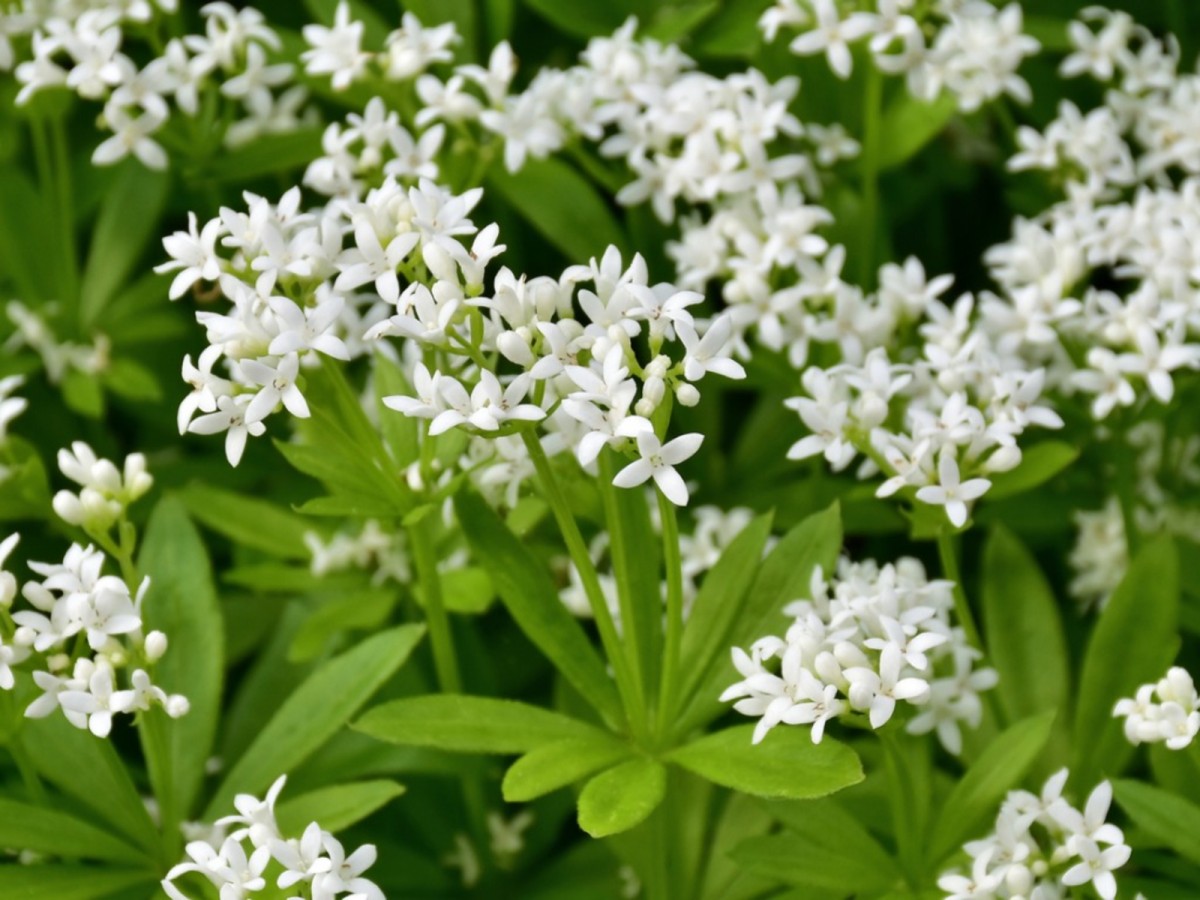 Sweet woodruff is an edible herb that is often used as a groundcover in shady gardens. It's a vigorous grower and its dark, glossy green leaves are covered with delicate white flowers in early summer. Ground covers are especially useful for controlling weeds and providing shelter for small wildlife.
Native trees and shrubs, like red twig dogwood, serviceberry, firs and maples, are never out of place along a shoreline. Native vegetation improves water quality and long-term shoreline stability and provides habitat for wildlife.
Asclepias incarnata/Swamp Milkweed
Iris versicolor/Blue flag Iris - Early spring flower
Lobelia cardinalis/Cardinal Flower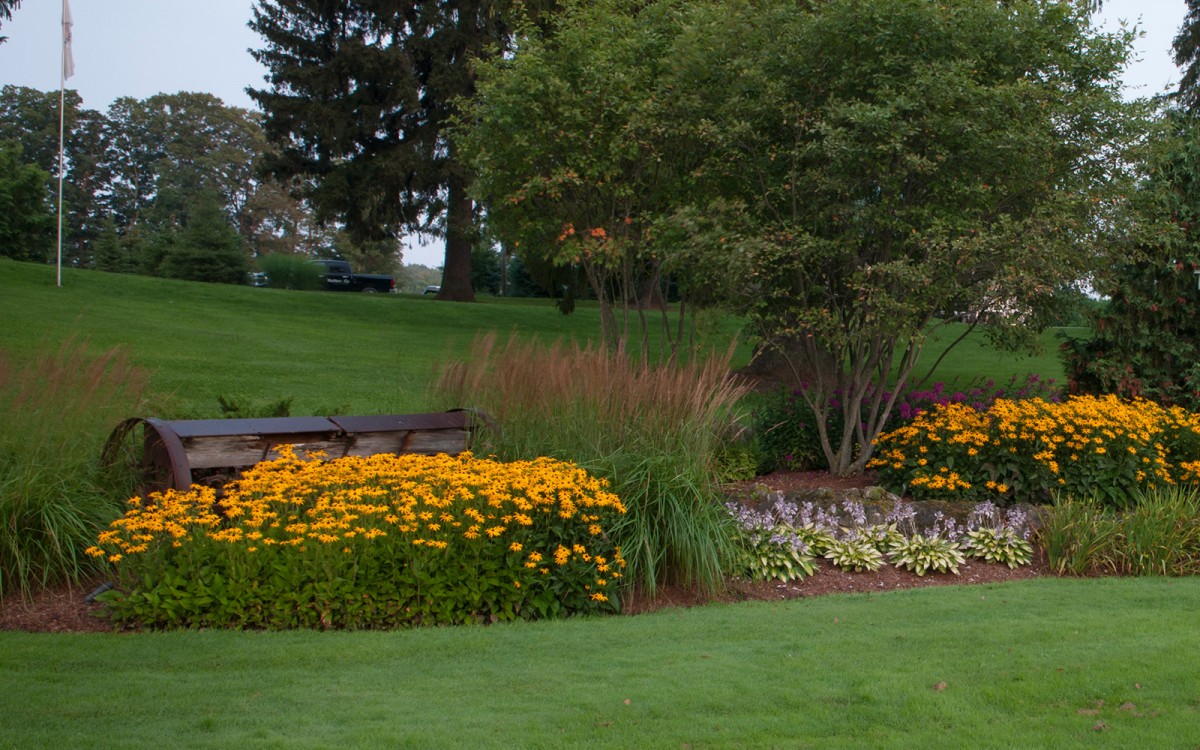 Plants to attract birds, bees and butterflies to your garden
Planting a garden to attract pollinators is a beautiful way to enjoy nature while helping to preserve it — I don't know anyone who isn't thrilled to see a hummingbird up close as it gathers nectar from the flowers they planted!
While pollinators aren't super-picky about the blossoms they choose to dine on, there are some they find more irresistible than others.
Rudbeckia, also known as black-eyed Susans, are cheerful plants that brighten up any garden. Bees feed on the nectar and birds swoop in to munch on the ripe seeds. They have a tendency to take over if there's not enough competition from other species, and will naturalize beautifully in meadows and other areas where they have room to grow.
Bee Balm attracts pollinators all summer long and the seed heads will attract birds in the fall and winter. Their daisy-like. tubular petals come in shades of red, pink, purple, and white. Bee balm plants are perennial and will add cheerful color to your garden for years.
Butterfly milkweed is attractive to butterflies because it provides the perfect food for emerging caterpillars. Other larval "host" plants include asters and birch. These plants help preserve and protect monarchs and other vulnerable species and are an important addition to your garden.
Yarrow has flowers that range in colour from white and soft pastels to brilliant shades of yellow, red, orange and gold. They have a distinctive smell, and provide nectar that is especially attractive to butterflies and bees.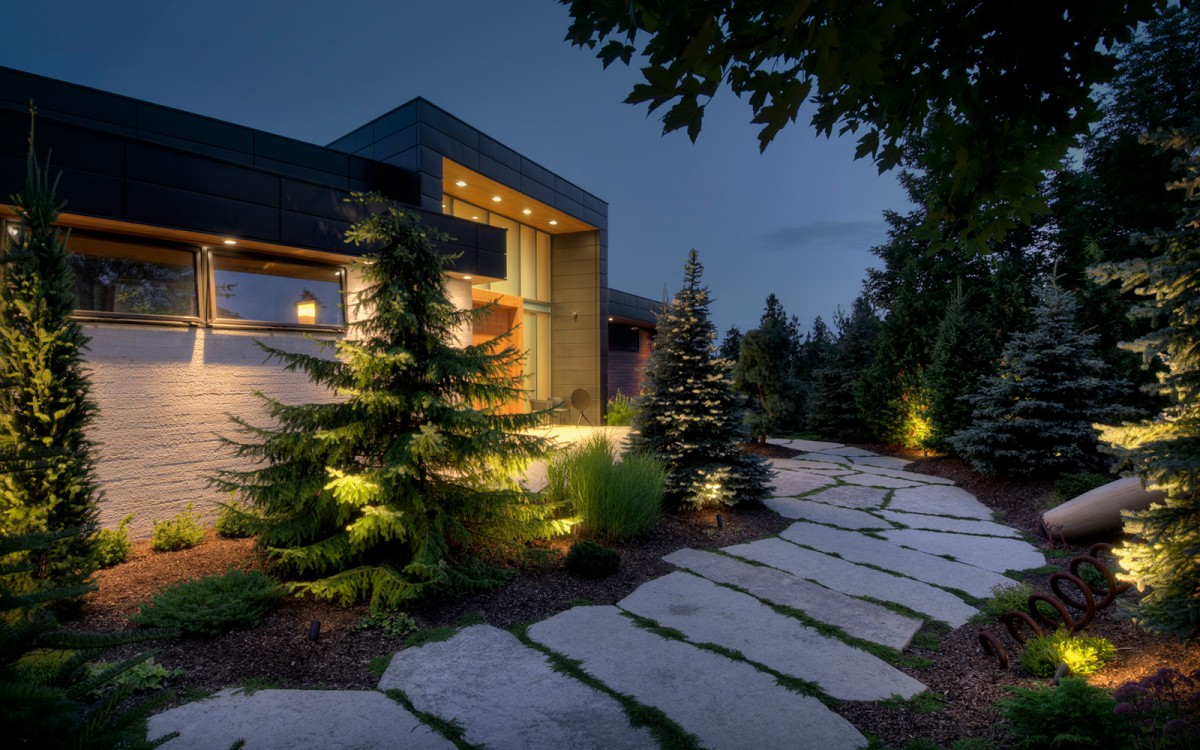 Plants that provide shelter to the wildlife of Grey and Bruce Counties
We need to consider our plantings carefully to prevent a loss of their habitat for birds and other wildlife. Native trees, shrubs and vines offer four-season interest with fragrant flowers, attractive fruit, amazing fall colour and (in the case of evergreens) a beautiful green presence against the backdrop of snow. Choose plants that are deer and rabbit resistant to keep them from treating your garden as a buffet.
Here are some trees and shrubs that can help shelter wildlife on your property:
Evergreen trees, such as pine, spruce or juniper provide shelter for birds — particularly owls — all year round. And because they are evergreen, they provide interest in the garden and along the shoreline all year round. Nothing is more beautiful than an evergreen covered in newly fallen snow!
Serviceberry can either be a tree or a shrub, and are exceptionally hardy and low-maintenance plants. They have clusters of white blossoms in the spring, followed by edible berries in summer. Birds also like to nest amongst the branches, so if you're a bird-lover like me, this is something you definitely want to plant in your garden!
Some plants, like hawthorn, red twig dogwood and staghorn sumac, have fruit that lasts through winter into spring. Because their fruit isn't as palatable as the summer fruits they are last to be eaten, offering an emergency source of food in the winter. As a bonus, the striking red spikes of sumac and red bark of dogwood adds interest to a winter landscape.
Red oak is a beautiful tree that loves the sun — it's also a valuable host to caterpillars and promotes ecological diversity. It provides nesting for birds, and is a good food source too.(all those yummy caterpillars!)
Whenever possible, go native!
Native species are best adapted to the environment and provide the food and shelter needed to preserve our wildlife. At Hutten & Co. we're conscious of preserving the natural beauty of Grey and Bruce counties, and we plan and design our landscapes to be aesthetically beautiful and respectful of the natural environment.
For more information on how to protect and preserve the Bruce Peninsula check out the Bruce Peninsula Biosphere Association's website.
If you'd like help designing your garden or creating a new landscape, book a meeting with us so we can sit down with you and discuss your project. With 840 native plants to choose from, we'll be able to help you narrow it down to find the ones you love.