You know you want a new dock, but aren't sure which one is the best choice for your shoreline.
We get it! Most of us only buy a handful of docks in our lifetime. To help, here's a quick rundown of the basic dock types available — and what our dock experts recommend based on our knowledge of the Georgian Triangle.
First Things First: Floating vs. Stationary Docks
Before we get into any recommendations, let's cover the most fundamental distinction between all docks on the market — whether they float on the water or stay in place.
Floating docks float on the water through foam-filled plastic billets or steel tub floats. Available in many widths and shapes, they're best suited for lakes with a mud bottom, fluctuating water levels or very deep water — but not where there are intense waves. They can sometimes be left in the water during winter if they're detached from the shore and towed to a protected area.
Stationary docks stay put by resting on the ground in the water. There are a variety of support systems used to keep them in place — which we cover below!
You've probably guessed that if you live on a body of water that's known to get intense waves (we're looking at you, Georgian Bay!), floating docks aren't usually the best option.

Basic Stationary Dock Types
Even when it comes to stationary docks, there are so many types out there! And new product innovations and accessories come out every year.
Here's a quick list of some of the most common stationary docks. Below the list is our general recommendations.
Permanent docks are expensive but low-maintenance and long-lasting (50+ years). However, since they use steel pilings that are drilled or vibrated into the lake bottom, they are not very environmentally friendly and are don't perform well on the Great Lakes due to varying water levels. These docks can work for lakes where the water level doesn't fluctuate — but they aren't great for places where there's a lot of ice. Unfortunately, for this reason, there are few permanent docks in Ontario. They may still be an option for you if your lake is small and rocky, but at Hutten, we don't recommend them.
Cantilevered, or "lift-up" docks stand on legs and are lifted out of the water by a winching system that's attached to the shoreline, which cranks and raises the dock in the colder months. They can go up to 15' deep. You should note, however, that because of how they're lifted up, they can have a negative impact on your property's sightlines. And with fluctuating water levels, you may have to make substantial (and expensive) adjustments to them each season. It's also possible that if an ice build-up accumulates on your shoreline in the winter, the fixed hinge point can be impacted by it to the point where they get ripped off — falling into the lake! This is another option that we don't recommend.
Pipe docks stand on legs (pipes) and are removable during the winter months. Most use an aluminum frame along with removable decking. These come in a wide range of lengths and can be made into almost any shape due to their modular construction. This modular design gives this dock type an advantage over the others because they can adapt to changing water levels and can be moved and adjusted to suit the season! The pipe docks we install at Hutten & Co. are easy to raise and lower and accommodate nearly any water level — ask us to find out more!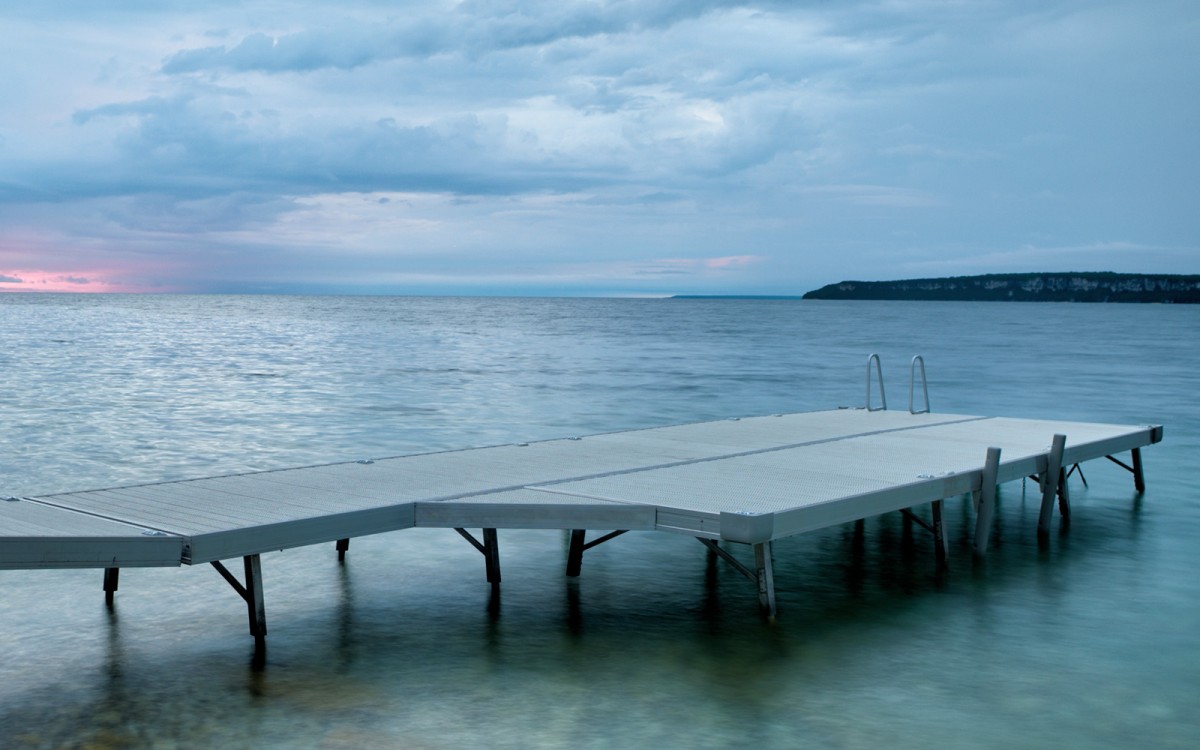 What dock is best for the Georgian Triangle? Our recommendations.
Due to the water fluctuations and intense wave action of our region, we only install and maintain specific docks: stationary marine-grade aluminum pipe docks. These docks have been specially designed to last for a long time and resist corrosion in the water.
Some of these docks are standard pipe docks, while others are a bit of a twist on the pipe dock model and have wheels on the pipes so they can easily be moved in and out of the water.
There are four major benefits of these docks, especially for our region:
Stability — These docks come with heavy-duty leg brackets (that are adjustable!) for any water level.
Durability — Related to stability, these docks can resist and withstand the aggressive waves of our region with chambered aluminum construction and vented decking.
Easy to install, remove & adjust — The modular design of these docks means they fit any shoreline type and are simple to install and remove during the winter — whether you do it yourself or have our team look after it for you.
Customizable — These dock systems can be configured to any layout, come in tons of finishes and have loads of accessories to compliment your style.
And the added bonus? All of these docks come with at least a 15-year warranty — some up to 20-years. Ask us for more details!
If you still have questions about choosing a dock for your shoreline, our dock experts are available by phone or email — just reach out!