Outdoor structures add function and elegance to your outdoors and are a fantastic way to extend your living space — bringing you closer to nature while protecting you from the hot summer sun or the harshness of winter.
An outdoor structure can provide beauty as a stand-alone piece full of craftsmanship and precision. As a feature amongst your entire landscape, an outdoor structure can encompass the interests and activities that bring your family and friends closer together, like outdoor kitchen & cooking, audio-visual entertainment, or cozying up to a natural gas or propane-fueled fire pit.
Adding an outdoor structure to your landscape has become increasingly popular, but it can be challenging to understand which material, style, or size would be best for you.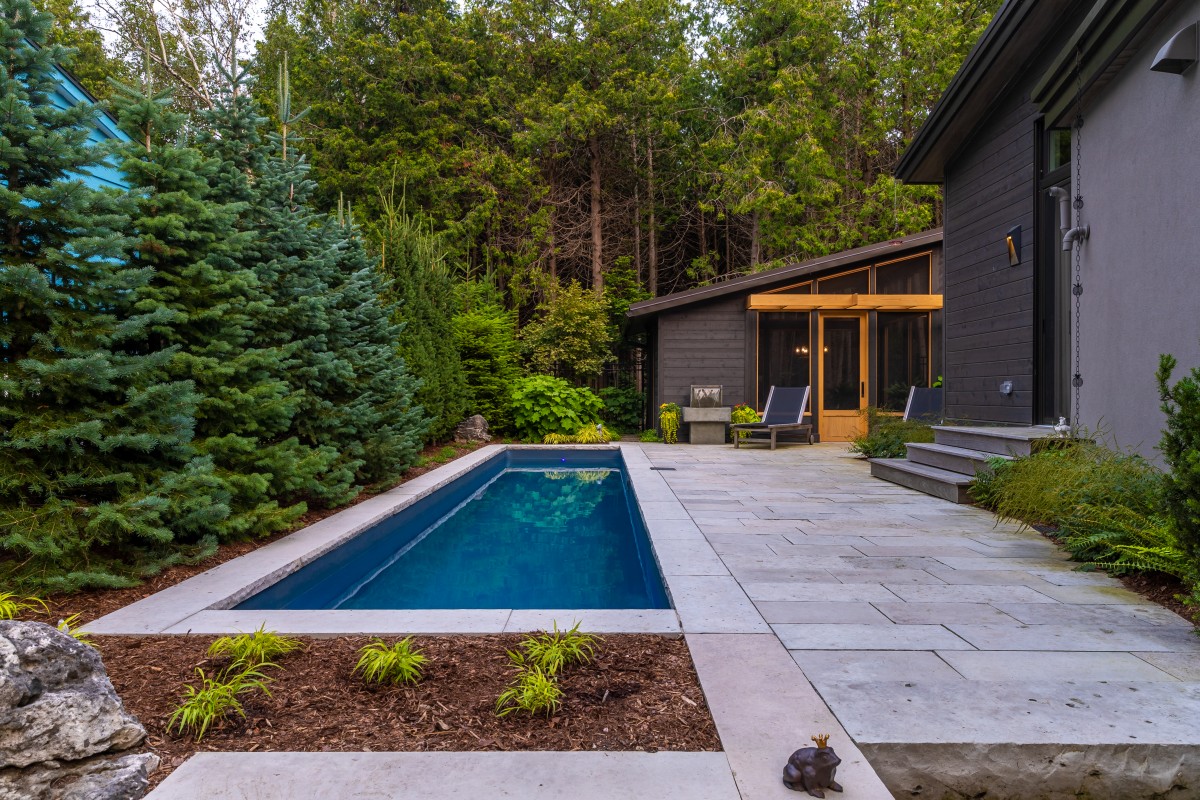 Douglas Fir – Resilient & Timeless
When considering an outdoor structure, our number one recommendation is Douglas Fir timber. Douglas Fir comes in "dressed" form, which has a planed finish and a sleek aesthetic or "rough-sawn" form, which is a natural timber that is more rustic in character. Each form offers a rich colour with a distinct long-grain pattern that will timelessly accent the natural beauty of the surrounding landscape.
When building long-lasting structures that can withstand the variety of weather elements found throughout Grey and Bruce Counties, Douglas Fir is a natural choice. Its strength and durability make it a damage-resistant timber that — through the natural weathering process — will continue to increase in character and value for years to come.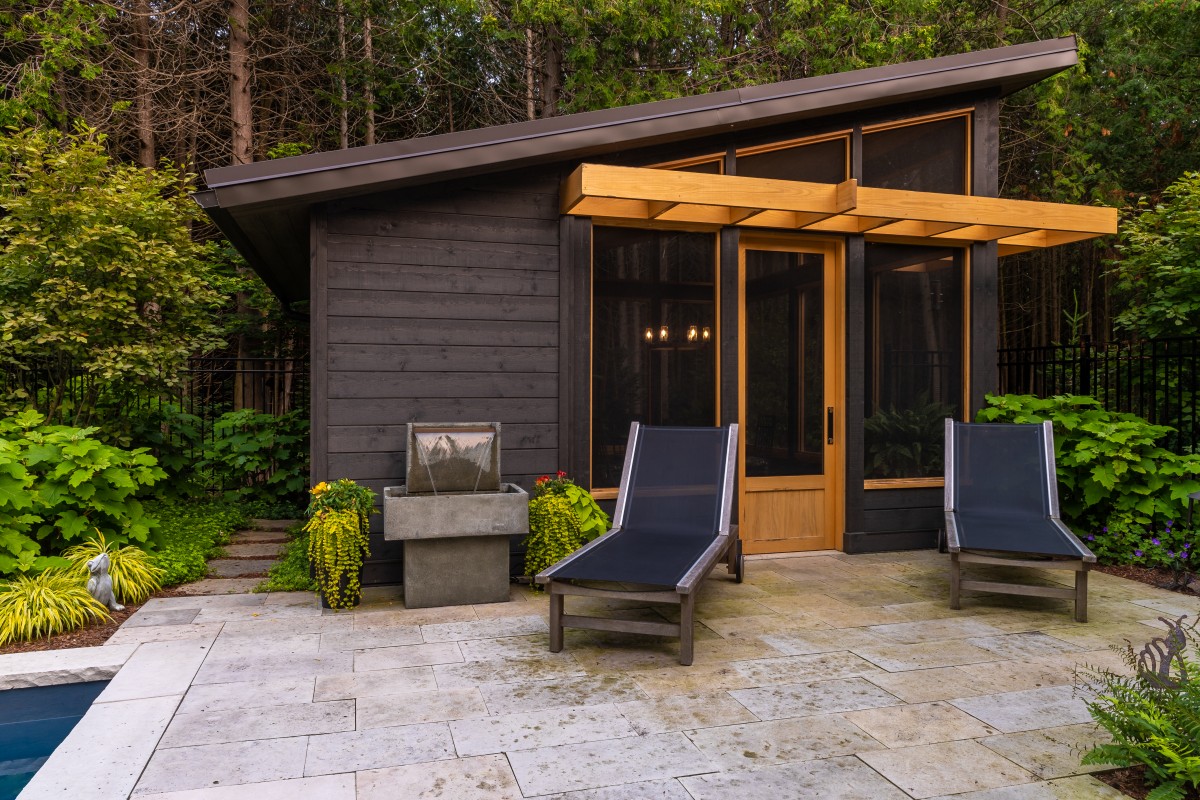 Tailoring a Structure to Suit Your Needs
Depending on the desired features, structural needs and location of your outdoor structure, our recommendations usually fall into one of two styles — pergolas or pavilions. Each style will provide a beautiful space to gather and entertain while setting your property or landscape apart from the rest. The option that best suits your landscape needs would depend on how you intend to use your space.
Pergolas
Pergolas are open-roof structures that allow natural light to pass through notched rafters that sit atop the structure. These notched rafters provide structural integrity to your structure while adding elements of exposed wooden charm. The pergola creates an open and airy ambiance that doesn't completely block out the sun and wind elements, allowing you to remain connected with your surrounding landscape.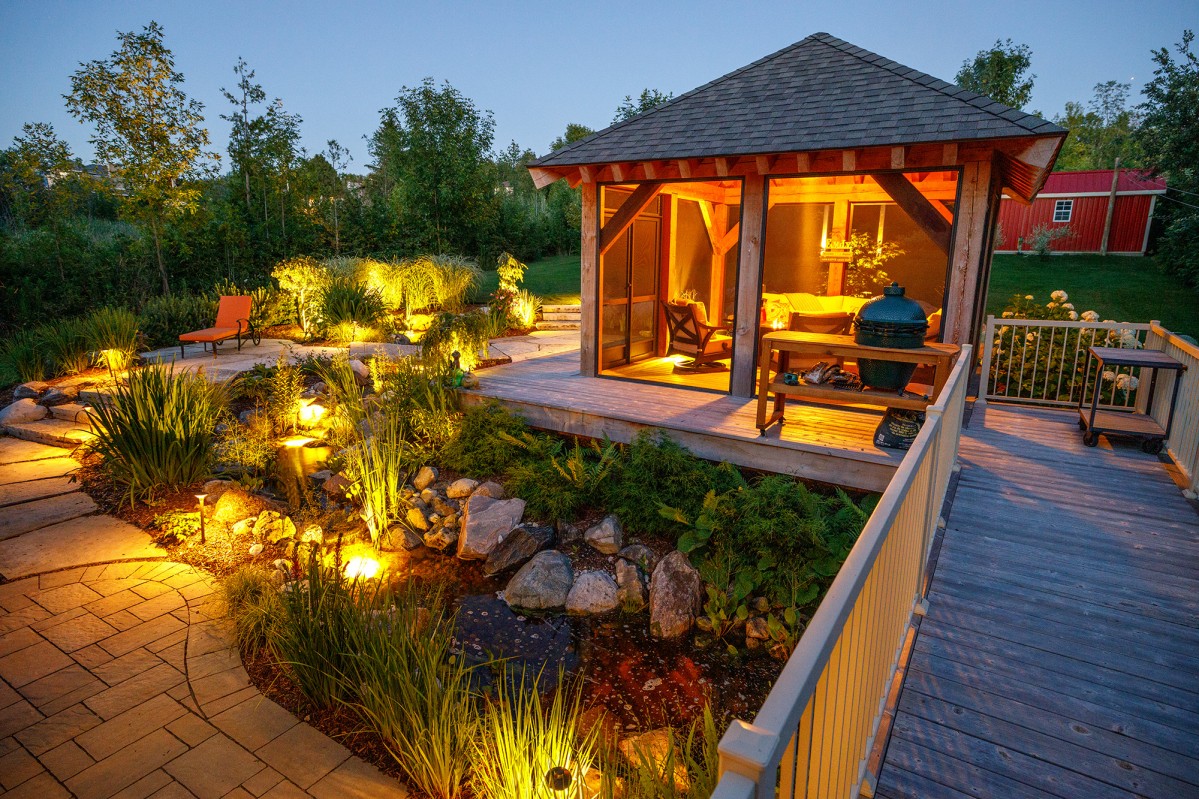 Pavilions
A pavilion is a fully-roofed structure that traditionally features a gabled roof or a single-pitch roof and is a versatile, multi-purpose space that protects you from the elements. Pavilions typically have a finished ceiling, allowing for a variety of entertainment options. You can easily incorporate features like recessed lighting, kitchens, televisions, or fire features and have them fully protected from wind, sun, rain, or snow.
No matter which option you choose, a pergola or pavilion will extend the time you spend outdoors, letting you enjoy your landscape to its full potential.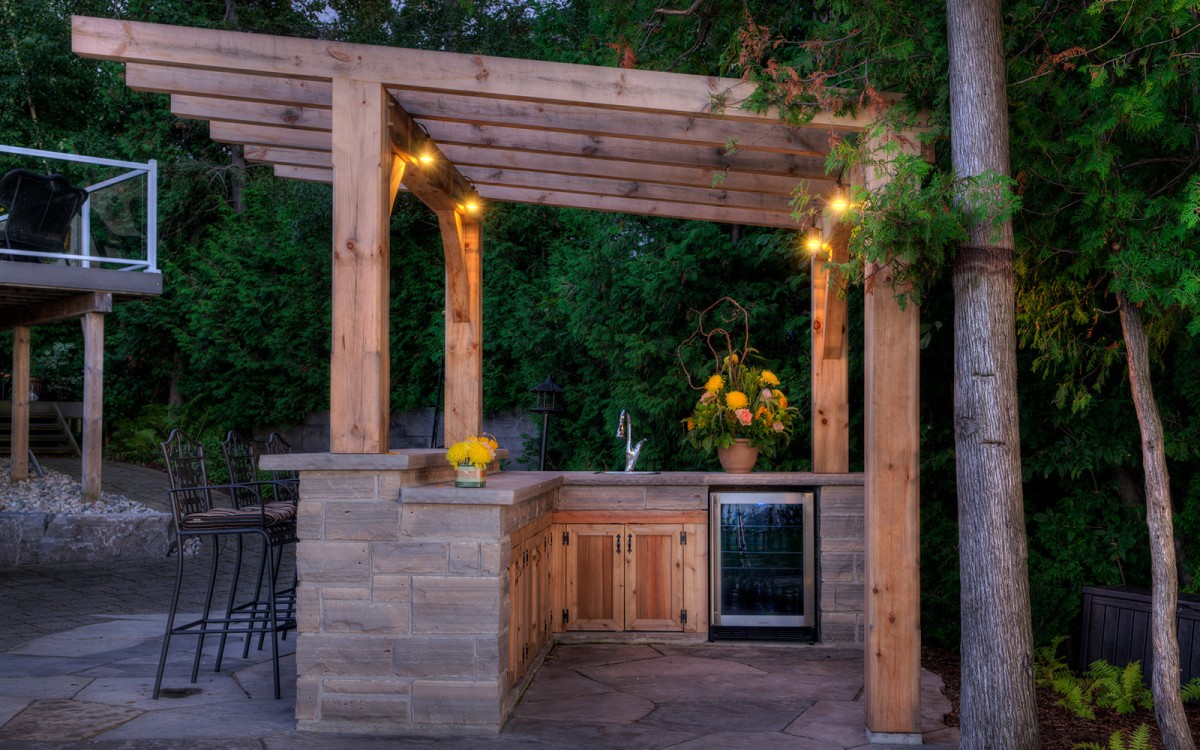 Importance of Engineering
While the aesthetics and features of your outdoor structure are important, safety and building code compliance mustn't be overlooked.
Technical and environmental concerns must be considered when designing and building an outdoor structure, as loads (forces placed upon joints, connections, beams, etc., that cause stress to the overall structure) can impact the size, scale, and design of your outdoor structure.
The anticipated changing loads, specifically live loads (changing forces like water, snow, and ice) and wind loads (changing forces or pressures exerted on a structure by varying wind conditions) mean that structural measures like spans, bracing, and connections must be considered (and in some cases engineer approved!) to ensure the safety, integrity, and longevity of outdoor structures like pergolas and pavilions. Structural elements like bracing can actually be a great complement to the overall aesthetic of your outdoor structure.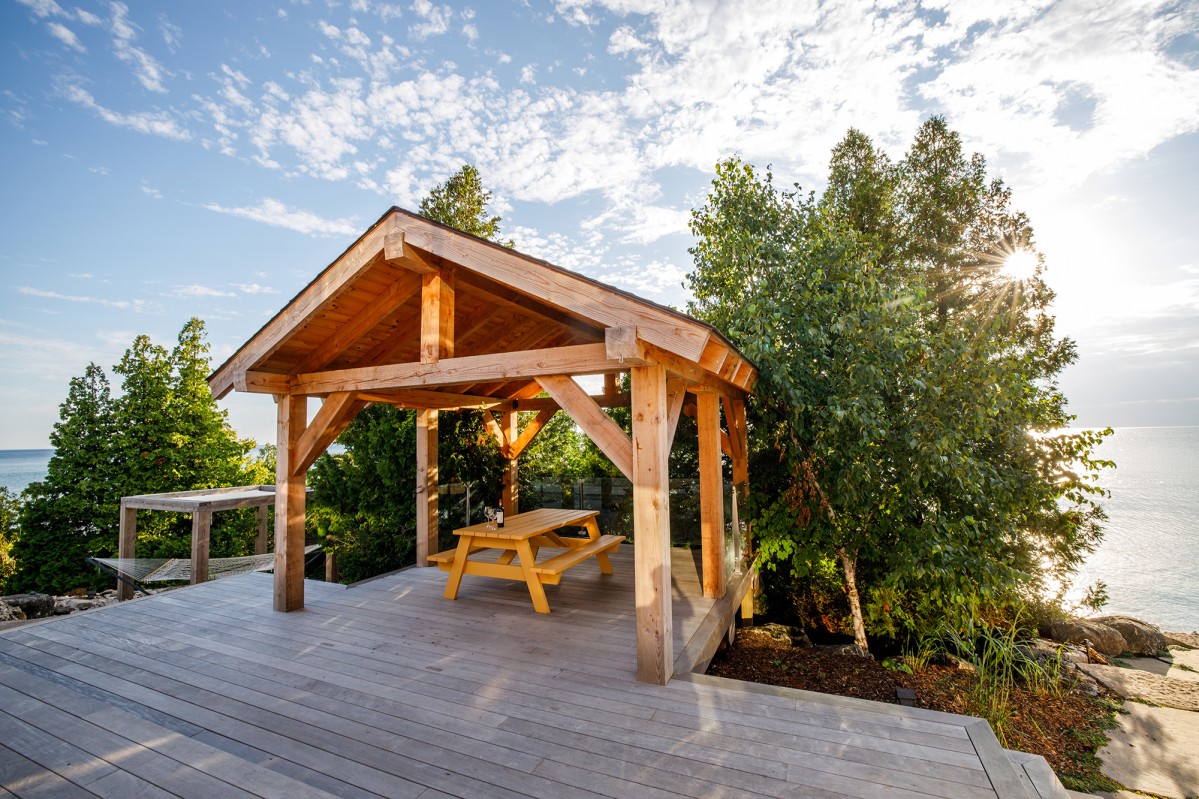 Which outdoor structure is right for you?
Browse through the photos and think about how you want to use your space. More likely than not, you'll want to add a structure to your property.
But if you're unsure which one to go with, don't worry!
At Hutten & Co. we've made it easy for our clients to enhance their living spaces by providing access to our in-house design and construction services. Just give us a call or book a meeting.
We'll help you get started, and before you know it, you'll have an outdoor structure to keep you cool, offer a screened-in refuge from flies and mosquitoes and give you a place to lounge, entertain, and cook meals — while adding tremendous visual appeal to your landscape.